The Content Of The Article:
Originally, scarecrows were set up in fields to prevent ravenous birds from destroying seeds and fruits. Even in our home gardens are the strange figures to find. In the meantime, they are not only used for crop protection, they should above all be decorative. In the following picture gallery we will show you how to reconstruct the scarecrow in the traditional look. Have lots of fun with it!
Start photo gallery
8
Show all
Build a scarecrow yourself
materials
For the scarecrow you need:
Two sawn wooden slats in the sizes 28 x 48 millimeters (about two meters long) and 24 x 38 millimeters (about one meter long), pencil, saw, nails, mitts (big hammer, possibly with hard rubber attachment), straw, twine, scissors, a piece of burlap (about 80 x 80 centimeters), old clothes, coconut (about four meters) and an old hat.
Sharpen wooden slat
Prick the longer wooden lath with the saw at one end so that it can later be smashed into the ground. Tip: In many DIY stores, you can have the wood sawed in during the shopping process.
Set up wooden scaffolding
Join both wooden slats with two nails into a cross (pointed end below). The distance from the crossbar to the upper end should be about 30 to 40 centimeters. Use a fist to hit the wooden scaffold at the desired place in the ground so that it is stable (at least 30 centimeters). On heavy ground you drill the hole with an iron bar.
Shape your head
With straw now the head of the scarecrow is formed. Tie the material in portions. Once the head has reached the appropriate shape and size, lay burlap over and tie down with twine.
Put on scarecrow
Two pieces of coconut knit serve as suspenders - just pull through the belt loops and knot. Then follow the other clothes. The further they are cut, the easier it is to dress the scarecrow. Ideal are buttoned tops like old shirts and vests throughout. Instead of a belt, a rope is tied around the waist.
Shape hands
The hands are again formed from straw. Put a bundle through the shirtsleeves and fix it with twine.
Daisies for the buttonhole
Daisies in the buttonhole are a pretty detail. If you like, you can bring fresh flowers to the staunch gardener from time to time.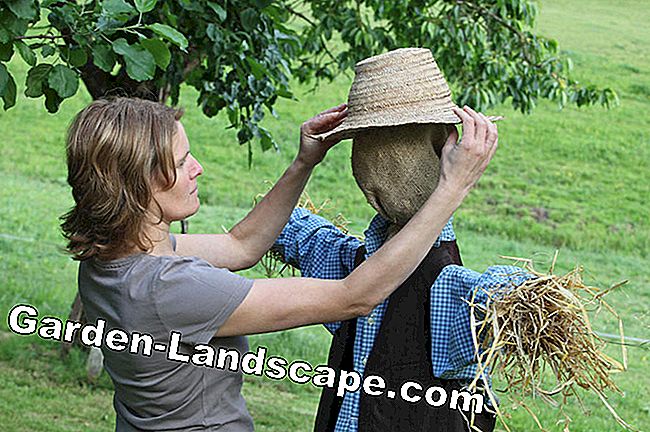 Last but not least
Now put a scared straw hat on your scarecrow - and you're done. Have fun copying!

Video Board: Chris Stapleton - Scarecrow In The Garden (Audio).