The Content Of The Article:
A wide flower bed borders the lawn and is bounded by a ivy-covered wooden wall towards the neighboring property. The thick bark mulch layer keeps weeds away, but inhibits the growth of the three lonely roses, which should liven up the unused garden corner without enough fertilizer. The sad niche in the garden can be transformed with a little imagination: For a small seat in the sea of ​​flowers or the sheltered garden area to relax.
Suggestion 1: Small seat in the sea of ​​flowers
For a pure bed, the sunny, sheltered garden corner is almost too good. Since enough space is available, a nice seat could be planned in the wide area, which is accessible via round tread plates. The floor area is covered with gravel, a clear demarcation to the bed area was deliberately omitted. The "free-standing veranda", which gives the seat backing and even some rain protection from above, provides for romantic flair. From the front it seems as if an entire garden shed would follow, in fact, the building and the view through the built-in window, of course, ends at the border. Nevertheless, the framing of the seating group contributes to the cosiness, supported by the scent of climbing rose 'Laguna', which may rise on both sides of the wooden beams.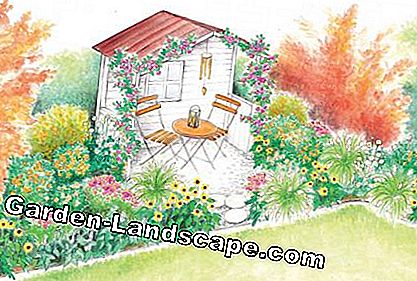 The small gazebo provides a sheltered place to stay
In the spring, the flowering begins at first somewhat calmer, with the airy-light white of two spring spiders and the rock pear 'Prince William'. With strong dark red the foliage of the existing willow shrub keeps it against. From the end of May, the color world changes as the 'Amber Sun' bed roses begin to blossom in bright orange, accompanied by their white colleagues 'Innocencia'.
Warm autumn light brings out the anemone, the sunhat and the lamprey grass
From June onwards, a purple-blue splash of color will also appear for a few weeks when the steppe sage 'Blue Hill' displays its candles. After pruning, its flowering repeats itself again in September. The autumn time is also the highlight in the bed: To the still blooming roses join lush yellow sun hat 'Goldsturm', tender, white autumn anemones 'Honorine Jobert' and purple glowing pillow asters 'Starlight'. In between, the narrow leaves as well as the bizarre flower rollers of the lamp-shine grass 'Herbstzauber' gently sway in the wind, illuminated by soft sunlight - the best time for a pause on the "veranda" in the middle of the sea of ​​flowers.
Video Board: Stylish design ideas for window with a niche - Top 30 Wall Niche Designs.