The Content Of The Article:
origin
The sedge (Carex) form a large genus of evergreen and wintergreen ornamental grasses, of which more than 2,000 species are members. They come from the family of the sour grass family (Cyperaceae). The various species grow naturally on moist forest and meadow soils, in fens and swampy waters edges, but also in dry, sandy to stony locations. They are mainly distributed in the cooler, temperate parts of the world, especially in North America and East Asia.
Appearance and growth
Due to their leaf shape, sedges can be easily distinguished from other ornamental grasses, because the leaves have not only a triangular cross section, but also a marrow, that is, they are filled. In cross section, the leaf blades are usually slightly folded and not flat. The species of sedge form dense clumps and their leaves a basal rosette. Some species of sedge spread with creeping foothills and are therefore good groundcover. The color spectrum ranges from various shades of green, green-white variegated leaves to a large group with reddish brown, bronze or chocolate tints. The latter group is mainly from New Zealand. Experts suggest that they have developed their particular foliage color to protect against intense UV radiation. This group includes, for example, the robust whip-bearing sedge (Carex flagellifera) and the New Zealand sedge (Carex comans).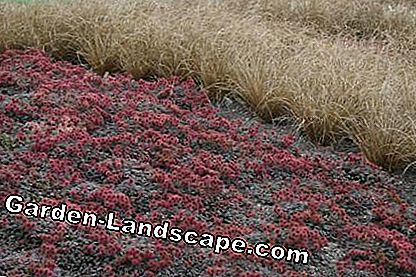 The best foliage color shows the New Zealand sedge 'Bronze Form' (Carex comans) in a full sun
Sedges form both female and male flowers on a stalk. While the males are rather inconspicuous and sit at the shoot tip, the female as well as small cones work. The morning star sedge (Carex grayi), for example, has showy flowers that look like little balls with protruding points. Sedges are particularly popular because of their evergreen foliage and their ability to form dense grassy mats. Among the many species and varieties there are very delicate mini-sedge, for example, the Red Dwarf sedge (Carex berggrenii), which is only five inches high, but also higher-growing species such as the spreading giant sedge (Carex pendula), the easily reached a stature height of 120 centimeters.
Location and ground
Most sedge species prefer a porous, fresh soil in the sun or partial shade, but are generally very adaptable. There are also numerous types and varieties available for wet or dry soil and shady locations. In order for the group of brown and bronze-colored sedges to get their foliage color, they need a sunny spot. The evergreen and multi-colored varieties such as the carpet Japanese sedge 'Icedance' (Carex morrowii) or the Japanese gold sedge 'Evergold' (Carex oshimensis), however, do not like summer sun and thrive best in a shady place.
The Morgenstern sedge (Carex grayi) owes its eye-catching flowers its German name
planting
For the delicate New Zealand sedges, spring planting is recommended.
care Tips
Sedges are very robust and require little care. In beds under deciduous trees, you should just leave the fallen leaves in autumn. It protects the plants and turns into valuable humus over time. You can also give some fertilizer for the growth phase in spring.
Since sedges are evergreen, they do not have to be cut in spring, but only a little plastered. This is easiest with the rake or the hands. You should wear because of the sharp-edged leaves gloves.
If the grassy horst becomes too large or shallow in the middle, one can divide the plants in the spring.
use
Thanks to a wide range of colors, sizes and location requirements, the possibilities of using the sedges are almost unlimited - there is something for every taste and almost every garden situation. Low species are suitable for greening larger areas where they can form a dense carpet all year round. Sedges are especially beautiful in modern or puristically designed gardens. In the penumbra under trees they can be combined well with other leaf ornamental plants such as purple bells (Heuchera) or funchia (Hosta).
Low-growing species such as the deciduous broadleaf sedge are good for greening larger areas
If higher sedges are placed in the bed with other plants, they should be given a little space, so that their fountain-like growth comes into their own. Even in pots and tubs, sedges look good. Because they keep their foliage color well into the winter, they are often used together with heather, horn violets, evergreen Sedum species and Christmas roses as autumn and winter florets for flower boxes.
Species for wet or wet soils are also used for pond planting. Here, however, caution is advised, because some species such as the native Grazile sedge (Carex gracilis) tend to proliferate.
Winter protection and wintering
The group of brown and bronze sedge needs a winter protection from brushwood and is somewhat sensitive to winter wetness. Also specimens in pots and pots should be additionally protected in sunny places in frost. Wintergreen species need plenty of moisture in winter, especially when planted in a pot.
Important species and varieties
Sedges are not only durable, adaptable and robust, they are also available in numerous colors - from fresh green to multicolored to bronze tones. And the best thing about them: in more than 2,000 species of evergreen and wintergreen ornamental grasses you can find the right plant for almost every garden situation. The varieties of the Japanese sedge (Carex morrowii) are very popular in our gardens, for example the white-trimmed varieties 'Icedance' and 'Silver Specter'. These low varieties are ideal as ground cover. If you are looking for a bronze-colored sedge, you will be well advised with the New Zealand sedge and the foxred sedge (Carex buchananii). Particularly beautiful flowers are the morning star sedge and the stiff gold sedge (Carex elata 'Bowles Golden').
proliferation
Sedges are propagated in the spring by sowing or dividing.
Diseases and pests
Occasionally, sedges are attacked by leaf fungi such as rust.
Video Board: Skating Sedges Summer Dry Fly Fishing.