The Content Of The Article:
Experienced vegetable gardeners know that well-set soil is crucial for cultivation to succeed. Therefore, prepare the beds as close as possible to one or two weeks before sowing. This also applies if you use practical seed strips instead of loose seeds.
Sowing is child's play with the seed tape
Loosen the soil with the Krail or Kultivator at least ten inches deep and then level the bed with the rake. Rake the ground again just before the sowing time and pull it smooth. This is how it works: Roll out the seed tape, place it in grooves one to two centimeters deep, sprinkle and cover with soil. Then press down with the rake and water again with a soft jet, so that the earth is not washed off. Covering a 0.5 centimeter thin layer of mature compost over it, sprouting delicate seeds such as carrots more evenly.
Seed bands on which the seeds sit at the correct distance, save the singling of the seedlings. Important is a smooth Saatrille, so that the tape rests evenly
Seed bands are especially worthwhile for valuable organic seeds or rare species and varieties, where each grain counts. Even with fine seeds, which can be sowed by hand barely uniform, the Aussaasilfen play their strengths. Seed rollers up to three meters long (20-40 centimeters wide) are ideal for garden beginners. Apart from salad mixes and lamb's lettuce, there are flower mixtures to attract bees, butterflies and other beneficial insects to the garden. The selected species flower sequentially and provide the insects with valuable food for many weeks.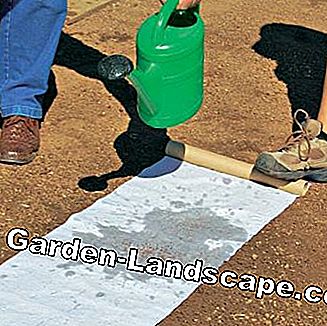 New are seed rolls or carpet fillets, for example, for lettuce or lamb's lettuce, with which you can equip even larger areas. Moisten the material thoroughly. Then cover it with earth and pour again
Grow flowers and herbs with seed discs
Round herbal seed discs fit in clay pots with diameters from 8 to 13 centimeters. Practical for window boxes: ready-cut seed slice with cut lettuce. Simply lay the plate on the seedbed. Thorough soaking before and after covering with earth is particularly important. If the special paper dries out, the seedlings wither away before they can form roots.
Round seed discs for the cultivation of potted herbs and seed plates for the balcony box make sowing child's play
Expert interview: So sowing with seed tape and seed disc succeeds
Claudia Becker is a sales consultant at Suet Saattechnik
Ms. Becker, hobby gardeners repeatedly report problems with seed ribbons; straight carrots or lamb's lettuce often germinate. Why is that?
So that seed bands can germinate completely, the soil should have a fine crumb structure. In addition, the tapes should be sufficiently watered in the first growing season. Within the first 14 days, so until the seedlings look out of the ground, you should not let the soil dry out.
For which species are seed bands particularly suitable?
They are particularly suitable for vegetables, herbs and flowers that need to be separated after sowing, for example, carrots, radishes, corn salad or parsley. However, seed bands offer advantages in general, since sowing with them is easy and even garden beginners can start directly, without having to worry about sowing strengths.
And when are seed slices best used?
For herb, vegetable and flower species, which are pre-cultivated on the window sill, in the greenhouse or in the balcony box, seed discs are ideal aids. In addition, they also offer a large selection of special varieties that can not be bought in every nursery as a young plant. Seed rollers are especially well suited for salad and flower mixtures. With them, gardeners can harvest lettuce or enjoy the flowerbed all year round without much work.
Video Board: A DrPimplePopper TBT: The ones that come out clean.