The Content Of The Article:
While the garden outside is still largely resting, the time at the beginning of the year can be used to prefer some of its summer flowers and vegetables. If you want to save some money, you can easily make your seed pots yourself from newsprint. The big advantage of early sowing: In the winter months, the selection of summer flower and vegetable seeds is the largest. End of February is the right time for sowing the first varieties. So you have the beginning of the season in early May vigorous plants that bloom early or bear fruit.
Seeds can be sown in seed pots or in a seed pot, the classic for sowing are Jiffy peat and coconut seed pots, but also from old newsprint can be made in a few steps small seed pots for sowing itself. We show you how it works.
Step by step: Make pots of newspaper yourself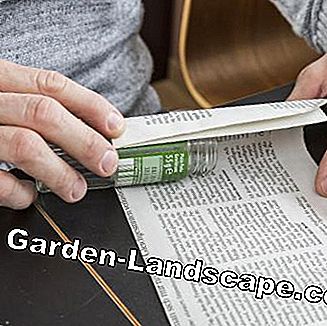 First cut the newspaper (left) and roll it up with a glass jar (right)
For the seed pots, first divide a newspaper page in the middle and fold the remaining half to make a double-layered paper strip about 30 x 12 centimeters long. Then wrap an empty salt shaker or empty glass jar of comparable size, with the open side up.
Then fold the paper into the opening of the glass (left) and then pull it out (right)
Now fold the protruding end of the newspaper into the opening of the glass. Then pull this out of the paper and the cultivation pot is ready. Our paper containers measure about six inches in height and four inches in diameter, with the dimensions of the shaping container and it does not matter to a centimeter.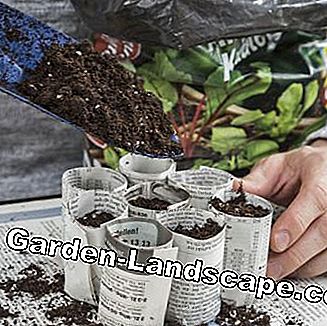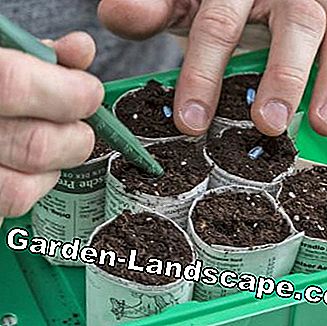 Now you just have to fill in the paper pots (left) and distribute the seed (right)
Finally, the small seed pots are filled with seedling soil and placed in a miniature greenhouse. Sowing sunflowers requires one seed per pot. Using a stick, press each grain about one centimeter deep into the soil and pour gently. After germination, the nursery is aired and set a little cooler, but still light, so that the seedlings are not too long. The paper pots are later planted with seedlings in the bed and decompose there by itself.
Our tip: Of course you can also buy your cultivation soil - but it is much cheaper to just do it yourself.
Practice video: Origami seed pots made of newsprint
Video Board: DIY: Newspaper Pots for Seed Starting/Cuttings.