The Content Of The Article:
General
Shrub roses, also called bush roses, are almost part of the basic inventory of a beautiful garden. The flowering wonders grow both in height and in width with clumps or umbels of simple and filled flowers on overhanging branches. Depending on your taste, they can be elegantly displayed in the garden or kept discreetly in the background. Shrub roses are easy to care for, versatile and can be had in almost every size and color. You should differentiate between several types: The so-called park roses make their name with their vigor Glory and need up to two meters in height and width. They usually bloom only once, but especially luxuriant.
Modern shrub roses grow more compact, but they bring flower after flower throughout the summer. The shrub roses also include the densely filled, nostalgic English roses of the breeder David Austin with their strong floral scent. The small shrub roses, also called ground cover roses, are also a special form of shrub roses: they remain relatively low, grow strongly overhanging to low-lying and carry almost continuous flowering new small flowers from June to autumn.
The shrub rose 'Dinky' bears large clumps of small flowers
use
Depending on the size and style of the garden, there are different uses for shrub roses. Since shrub roses bloom very intensively, they are ideal as solitary plants. Arranged in groups of three or five, they soon grow together to form a large shrub and make so much more - but of course that is a question of space. Very often shrub roses are used in mixed plantings. In combination with tall perennials such as Ehrenpreis or larkspur they are well suited for planting the Beethintergrundes. Shrub roses can also be used as hedge plants. Here, depending on the variety, a planting distance between 60 and 120 centimeters should be maintained, so that the hedge is beautifully dense, but the individual plants still have enough space for development.
If you untie the long shoots of the shrub roses, they can even decorate trellis and rose arches with them. Small shrub roses are also used because of their ruggedness and flowering joy as surface greeners in parks and in the roadside green. Of course, there is nothing wrong with planting them with perennials and other roses in the house garden bed. Do not put the varieties too far back because of their smaller size.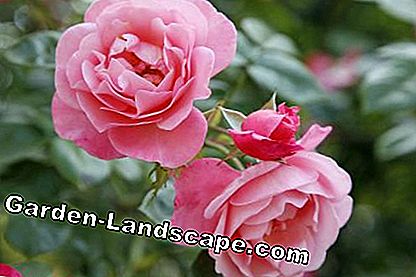 The delicate pink flowers of the shrub rose 'My' smell fruity
planting
Root-bare roses can be planted in autumn or spring. The fall is however the better planting time, because the roses then come fresh from the field and without much storage time in the cold store right back into the ground. In addition, they have usually formed so many new roots by spring that they can drive out vigorously. Roses with potted bales can be used all year round - they usually just continue to grow if they are well supplied with water after planting. A sunny, airy location in a nutrient-rich and deep soil is ideal for all shrub roses, but they are somewhat sensitive to cold, drafty easterly winds.
Water rootless shrub roses in a bucket of water for several hours before planting, then cut back the main roots and shoots by about one third each. Refined varieties should always be planted in such a way that the processing station is two to three fingers wide, ie about five centimeters deep in the garden soil. If the rose is planted higher and the refining site looks far out of the ground, it is susceptible to frost damage. The planting hole should be so big that the roots do not bend over. For the planting distance the rule of thumb is: half as much as the adult plant becomes high. Fill the planting hole with soil and leave a pouring rim, because the freshly planted rose needs to be watered well. In order for it to rooted well one should do without any fertilizer in the planting year.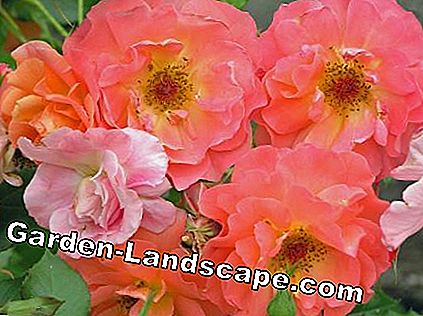 The shrub rose 'Westerland' by Kordes has been a classic for decades
maintenance
When watering, be sure to water the shrub rose as close to the ground as possible. If the leaves are constantly wet, this promotes the development of various leaf diseases. For more flowering varieties, you should regularly cut the withered inflorescences over the first well-developed leaf. They then form faster new flower shoots faster. At the beginning of April, shrub roses look forward to a gift of mature compost as starter fertilizer, which can be enriched with some horn meal. After the first flowering at the end of June, fertilizer is applied a second time with organic rose fertilizer. From time to time, the soil around the roots should be gently loosened.Always use organic fertilizer flat in the soil to decompose quickly.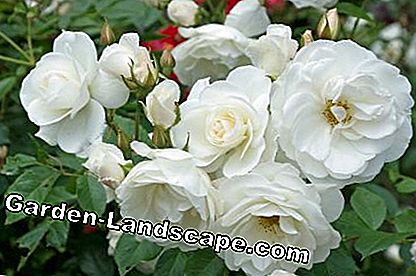 The white lightly filled shrub rose 'Snow White'
To cut
In contrast to the bed roses, flowering shrub roses are cut only slightly in the spring, as a strong pruning promotes the length growth of the shoots, but does not necessarily lead to a better flowering approach. Rule of thumb: Strong shoots should be cut by one third, weak shoots by half. Dead branches are removed at the base or cut down to the healthy wood. When cutting, make sure you have a harmonious crown structure and clear out very dense crowns by completely removing individual shoots. Single-flowered shrub roses form their flowers on perennial wood, and should therefore be left as quiet as possible for a beautiful flower. Older plants can be lighted in the spring something, so that the crowns of the usually a little more disease-susceptible old breeds remain airy and loose. To do this, it is best to cut off individual over-aged branches directly at the base or at the junction. A stronger pruning, however, tolerate the small shrub roses. They are often put on the stick in public green with the brushcutter every few years.
Shrub rose 'Light Queen Lucia' with bright yellow flowers
winter protection
The vast majority of shrub rose varieties are very hardy and do not require extensive winter protection. However, it is recommended that all processed varieties in the fall around the refining with soil or compost pile and in very severe frosts to cover the shrub base in addition with fir rice. Wild roses and small shrubs roses need no winter protection.
proliferation
Shrub rose varieties, like most other rose varieties, are propagated through refinement. It is carried out in the summer on planted out processing documents by the so-called Okulation. With a flat cut, one lifts off an "eye" with a bark strip of the scion and places it in a T-shaped bark cut in the root neck of the processing base. Small shrub roses are usually not refined, but propagated by cuttings.
Diseases and pests
Unfortunately, shrub roses are not immune to the usual rose diseases such as powdery mildew or star soot. Also aphids and spider mites like to settle on the rose bushes. Wet rose foliage is a gateway to various fungal diseases. If possible, cultivate resilient ADR varieties and treat susceptible varieties with environmentally friendly net sulfur preparations.
Video Board: Shrub Roses are perfect for the Modern Garden.