The Content Of The Article:
Luckily, small shrub roses have left the prejudice "they are just something for the public green" behind - and rightly so, because this group of roses is more versatile than any other Covering varieties with different characteristics has led to misunderstandings, and ground coverers still have the image of a purely functional planting area for public green spaces - hence the name did not do justice to the beauty of the small shrub roses.
Plant small shrub roses as groundcover
However, all small shrub roses have one thing in common: if they are planted close enough together, they are all suitable as ground cover and almost all varieties enchant us until autumn with an overwhelming abundance of flowers. If you value a completely closed plant cover that prevents weeds from growing tall, you should plant varieties that are at least 40 centimeters high. With smaller roses, light still reaches the ground, which favors weed growth.
The variety spectrum can be roughly divided into three different growth forms: Small shrub roses such as 'Purple Haze' spread flat with long shoots and it already enough one to two plants per square meter to cover an area. Varieties with upright, bushy growth such as 'Cubana' or 'snowflake' grow more compact; It takes three to six plants per square meter for a two-dimensional effect.
Start photo gallery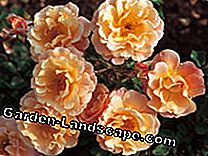 6
Show all
Small shrub roses for all cases
'Sommerwind' has been indispensable for decades. The sturdy strain carries the ADR rating, is 60 inches high and wide. With only four plants per square meter you get a closed carpet of flowers that shines pink until the frost
'Colossal Meidiland' blooms until autumn. Three to four plants per square meter are enough to cover the soil. But even in small planting groups, the 80 centimeters high plant comes into its own
The delicate apricot of 'Cubana' is a rare color for small shrub roses. The new variety is 50 centimeters high and can be combined with purple flowering perennials such as catnip (Nepeta)
'Celina' also brings color to half-shaded places in the bed. The pale yellow flowers of the arched overgrowing ADR variety have a light scent and look naturally natural due to their low filling
The well-known variety 'Heidetraum' is not only a grateful ground cover, but also highly recommended as a tall tree rose
'Snowflake' lights up other colors in the perennial border. The robust small shrub rose is 40 to 50 centimeters high
If you are looking for a taller, boggy overhanging small shrub rose that looks good in individual positions, choose varieties such as 'Windrose'. Depending on the growth rate, you need two to four plants per square meter of these roses for a ground-covering planting.
As different as the growth forms are, so varied are the flowers: There are romantically filled and natural looking simple varieties. The color palette of the flowers is getting bigger and bigger: If one had to use pink and white in the past, one can now enjoy varieties in warm reds, yellow, apricot and orange.
Fragrant small shrub roses
Small shrub roses, however, not only impress with great colors: some varieties emit a pleasant scent, which is not comparable to the aroma of edelrosen, but can also enchant. The white 'Snow Queen', the dark pink blooming 'Magic Meidiland' and the blue and pink variety 'Lavender Dream' pamper our noses with a great scent. Another plus point for the small shrub roses: Most varieties are absolutely robust and bloom tirelessly until the first frost. This is why many varieties have been awarded the quality seal ADR ("Recognized German Rose") in recent years, which makes them particularly healthy and willing to flower.
The small shrub rose 'Snow Queen' exudes a great fragrance. The lightly filled ADR variety of the rose grower Tantau becomes up to 130 centimeters high
Robust and easy to clean
Especially garden beginners can do little wrong with the robust roses: The cutting is limited to small shrubs roses to a minimum. It is enough if you illuminate the plants every three to four years in the spring before sprouting. If the rose area has become too high for you, you can even radically cut the roses back with the hedge trimmer.
You can usually do without the autumnal accumulation of the root area with soil for winter protection.If you place roses deep enough in the soil - the processing point must be about five centimeters deep in the ground - covering with fir-spruce, which protects the roses from drying out by the winter sun is enough. In cuttings propagated small shrub roses, the shoot base should also be five inches deep in the ground. Another design tip: Combine different varieties together. A rose surface appears looser when flower colors and stature heights vary.
Video Board: How to Best Fertilize Roses : Garden Space.