The Content Of The Article: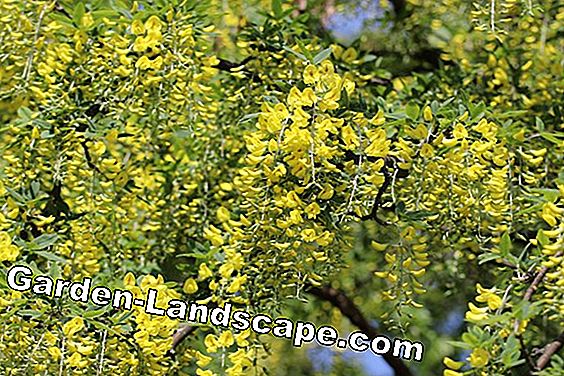 Butterfly-shaped, bright yellow flowers make the laburnum the ideal ornamental tree. However, caution is advised as all plant parts of the Laburnum anagyroides are toxic, especially the seeds. Laburnum can be planted in the fall, October and November, as well as in March. he likes a location that is sunny or at least semi-sunlit.

Soil quality and care
The laburnum grows particularly well on rocky soils. In the garden he should find lime and nutrient-rich soil. When planting, care should be taken that the hole in the earth is twice as large as the entire root. Then he needs plenty of water. Later, however, excessive watering can lead to illnesses and reduce its flowering power. It does not need to be fertilized, nor is cutting required. With strong vegetation it is enough to thin it out.

Small splash of color: the vinegar tree
This small tree is also called Hirschkolbensumach and impresses in its heyday, summer, with purple flowers. Also in the autumn shows the Rhus typhina a magnificent variety of colors and is very popular because of its aesthetics. His demands on the environment and the soil are very low. If its location is not too shady, it thrives pretty much everywhere.

Special features of the vinegar tree
The impressive vinegar tree can be planted all year round. And although he is modest in the care and choice of his place, he likes the sun. Its seeds are only a few millimeters small nuts, which have a red hairiness. These hairs gave the vinegar tree its vinegar-like flavor. The only downside to the pretty plant is its sprawling root shoots that need to be stubbornly removed, as they have the ability to make their way even through paved areas.

Small fruit tree: the ornamental apple
Its white-pink flowers are breathtaking, which shows in May and spreads a fragrant scent. It should be noted, however, that the resulting fruits are not consumed raw, but jam or jelly is usually made from them. Also this small tree is frugal in the care and needs neither fertilizer nor plenty of water. He survives dryness better than wetness. Too much water causes him to throw off his apples and leaves. His favorite place is sheltered from the wind and in the light shade.

Care tips and ground for ornamental apples
Humus rich and loose garden soil rich in nutrients is preferred by the ornamental apple. She may also like to be slightly loamy. Autumn is the best time to plant it. If this is not possible, care should be taken that the soil is frost-free. The propagation of the ornamental apple is best done on cuttings, which should be cut in June and should have at least seven leaves. When cutting the tree there are some things to consider.

Cutting ornamental apple trees
Cut young trees regularly
Only thin older trees
perform the summer cut in June
Cut back earlier this year before the formation of new leaves
Decorative element: the ball acacia
A peculiarity among the ornamental trees for small gardens is the ball acacia with its white leaves. Due to her uncomplicated care and frugal claims, she is very popular with gardeners. However, she needs a bit more space due to her shape. This pretty looking tree is preferably planted in the first frost-free winter months and should get a sunny spot, which protects as possible from strong wind, as the branches of the Kugelakazie otherwise can break quickly.

Care, cutting and tips
Initially, the ball acacia needs a good irrigation. Later, she provides herself with needed water. Over time, the ornamental tree reaches a good crown circumference. This can be easily reduced in the spring, before the renewed expulsion, by the crown is cut to one third. To enjoy the ball acacia for a long time, it is recommended to clear it up from time to time. Kinked or dead parts are removed at the same time.

Worth knowing about small garden trees soon
Small gardens also need some structure and a little bit of shade. Here, however, one often faces the problem: how can I create structure and shadow in a mini garden? The answer is actually obvious. Small gardens do not need trees or shrubs. There are some types of woody plants that are perfect for small gardens! To the above examples could be added:

Japanese maple - slow-growing tree that enchants with a beautiful foliage color in autumn.
Hanging kitten pasture - very popular, not only among the garden owners, also bumblebees and bees they find more than attractive.
corkscrew hazel - provides bizarre growth for eye-catching in the garden. Regular cutting keeps it compact.
However, many plant distributors offer many attractive flowering shrubs as high stems, for example Buddleia, The trees can be placed either in large buckets, or outdoors plants. They not only provide some shade, but also a nectar-rich flowering throughout the summer. Popular with the butterflies that frolicking in the flowers in droves.
Also hibiscusTrees are now available. They are also ideal for the small garden. The bloom lasts also into the late summer / autumn. It pays off to browse through the catalogs of plant senders from time to time, or to search the Internet especially for small trees and shrubs. The prices are different, you just have to worry about how much you want to spend. If you have the patience and the time, you can raise a lot of plywood yourself.
Video Board: Choosing the right tree for your garden.