The Content Of The Article:
A garden is a place of relaxation, in which of course no water feature may be missing. For example, how about building a Sourcestone yourself? Here is a guide.
A sourcestone is not just a pretty garden accessory. He is also perceived as a refreshing elixir of life because of its components. And no matter what size you choose the source stone - the harmony between stone and garden (plants) determines how much energy emanates from this garden stone.
But not only that. Sourcestone, also known as bubble stones, are often used by animals, which often forms a fairly active rendezvous of birds, butterflies, dragonflies, etc. at the source stone. A sourcestone is really more than a garden accessory. Here you will find peace and relaxation and can also observe animals on the side.
You need this for the construction of a source stone:
Sourcestone
pump
water basin
Cover for the basin (for example grid)
different sized stones or plants
possibly other decorative elements
How to build a source stone yourself
Step 1 - Select material and size:
First and foremost, source stones made of fine marble, iridescent granite, are made to any rock garden, well-fitting slate, but also from effective sandstone and offered in the garden trade or the modern stonemasons. Without further ado, you can create a beautiful source stone yourself with a little manual skill from a local boulder.
" Tip:
The sandstones, which are available in many shades, are ideal for a Mediterranean-style garden, especially as they can be optimally combined with terracotta pots.
You can set up a source stone either as a solitary stone (monolith) or as a stacked cascade (several source stones). Of course, you have to make the decision for the respective variant depending on how much space you have in the garden.
" Tip:
Solitaire stones can be bigger, even if they decorate a front yard, because they work on their own. On the other hand, in cascades, you must make sure that the watercourse (whether spring pool or waterfall) is clearly in the foreground and still forms a unity with its surroundings.
Step 2 - Select location:
A sourcestone can find its place everywhere in the garden. Even rockeries, walls, garden ponds and groups of trees can be optimally upgraded by a sourcestone. Especially as he provides in the game with sunlight then also for completely new perspectives selbiger. And of course a sourcestone can also find its place on a terrace or in a conservatory.
Now choose the perfect place for your source stone and mark it.
Step 3 - Drill hole for the pump tubing:
Usually sourcing stones are already offered in the specialist trade with a correspondingly necessary hole for the pump hose. If not, you must do this yourself on the stone using a special masonry drill bit or concrete drill bit on the hammer drill, or commission it to a local stonemason.
The size (diameter) of the borehole is dependent on the hose size of the pump used in each case. The hole should not let the tube play too much though.
Step 4 - Water supply:
The heart of the source stone is its water cycle, which you can ensure with a water basin placed below or in the immediate vicinity. With the help of a water pump, the water is always transported from the basin into the spring stone and back again.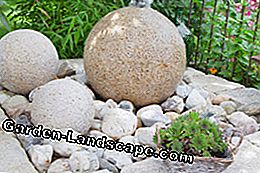 Please note that you have to install the pool, the pump hose and the associated electrical installation as invisibly as possible. The best way to work with the pool with a cover, which you can later green easily or cover with stones.
To ensure this, it is best to dig a pit into which you place the basin. Then place a suitable cover or grid on the basin and then place the source stone on it. It is only important then that you cover the grid nicely.
Video Board: Earth Rift - Source Control.