The Content Of The Article:
Rhubarb is one of the most enduring vegetables, but because of its fruity taste is often treated like fruit and delivers the first fresh compote in the spring. He is very productive, easy to pull and prolific.
Rhubarb can be driven in the house or outdoors, so that you can harvest fresh stems already in late winter or early spring. These pruned stalks are more tender, tastes particularly delicate, and contains less oxalic acid than the stems cut at usual harvest time, which can become tough and fibrous.
That's the best way to taste it
The picking period starts every year in April with rhubarb. From the sour vegetables you can make but delicious jam even more delicacies.

Shopping: Watch out for crisp, firm and fresh-looking stems with a smooth surface. Older look wilted and can be bent.
The varieties: Red-fleshed rhubarb stalks with red skin have a mild raspberry aroma. You can use them for jam as well as for compote, all sorts of cakes and tarts as well as for ice cream and sorbet. Greenish stalks with red skin are more acidic than the red ones and need a bit more sugar during preparation. They taste best in cakes with sweet meringue bonnet, but also as jam or compote. Greenish stalks with green skin are the sourest. Because they need a lot of sugar, they are especially suitable for jams and jellies.
Storing: Stroked in a damp cloth, the rhubarb stalks in the fridge remain fresh for up to a week. To freeze, peel off the skin of rhubarb. Cut the bars into small pieces, let them freeze on a tray in the freezer. In a freezer bag, seal, freeze for up to eight months.
Cleaning: wash the bars, cut off the ends of the leaves. Cut the skin from the bottom to the top with a small knife.
Spices: Vanilla pod, cinnamon, juniper berries and even peppercorns give rhubarb a great flavor. Just cook.
For compote: let sauté as for pies. Then cook with the juice.
Cutting rhubarb after harvest - how is it cut back?
Rhubarb - which is actually a vegetable - is a popular topping for cakes and tasty as a compote. As a garden plant, however, he gives up so many puzzles. This includes the blend. Interested parties can find out when it makes sense and when it does not.
Transplant rhubarb - the best time to plant
Fruity, juicy and full of vitamins - those who plant rhubarb in their garden will always have at their disposal an aromatic vegetable for summery desserts or cakes. However, when cultivating the popular vegetable, it should be kept in mind that from time to time, the delicious sticks need to be relocated to provide a rich crop.
Cooking rhubarb jam - basic recipe
The rhubarb, a wonderfully old-fashioned vegetables, is back in fashion, at least in the kitchen. There are now different varieties with green or red meat and in the garden they grow almost by itself. It should be harvested and processed by June 24th. The classic is rhubarb jam, for a good reason.
Harvest rhubarb - this is the best harvest time
Rhubarb is a fascinating vegetable that is very popular and can be found in many private gardens. No wonder: it tastes good, is versatile in the kitchen and relatively easy to grow. The bottom line is usually only the harvest and the question of when can be harvested. Here are answers.
Overwinter rhubarb - so protect it from frost
The rhubarb is basically hardy, but in some cases it is necessary to protect the plants from the frost. With simple grips you can make the rhubarb winterproof both outdoors and on the balcony.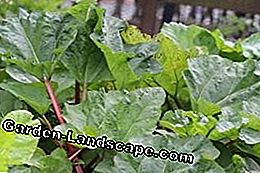 Rhubarb: is it fruit or vegetables? We clarify
Although rhubarb is not for everyone, this fruity-sour treats have many lovers. The season for the native Tibet plant begins in April and ends in June. After the question of whether rhubarb is now part of the fruit or vegetables, divorce to this day the spirits.
Eat rhubarb raw - is it poisonous or not? This is to be considered
Just in time for the rhubarb season, the discussion comes to life every year. Health experts warn against being eaten fresh, because the fruity-sour vegetable sticks can harm your health uncooked. Stop wondering if rhubarb is poisonous or not if eaten raw. This guide explains what to consider for a carefree rhubarb enjoyment.
Peel rhubarb: this is how you clean the vegetables properly
Rhubarb is a true delicacy, especially in spring.The low-calorie bars with their slightly sour and refreshing taste are not only delicious, but also contain important minerals and vitamins. So there are many reasons to prepare fresh rhubarb as compote or cake. However, rhubarb should be peeled before preparation.
Boil rhubarb: conserve without much effort
To boil rhubarb to conserve it without much effort is easily possible and due to the short harvest time also very useful. With the right instructions, culinary skills are not required. Just a little patience and the right approach. Here's how it's done.
Growing rhubarb plants - sowing + care in the garden and pot
Rich in vitamins, low in calories and easy to grow, rhubarb plants are highly favored by home gardeners. Professionally planted, the healthy fruit vegetable provides over many years tart-refreshing palate for the whole family. How to sow and care in the garden and pot succeeds illuminated this guide in all details.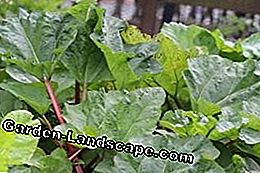 Freeze rhubarb: raw and cooked to preserve
A fruity-sour Tasteexplsosion and a pleasant tingle on the tongue experienced every hobby gardener, who enjoys a dessert from their own rhubarb. The red-green sticks, which botanically belong to the vegetable, grow lush and yield rich yields. The question then quickly arises: how can rhubarb be best preserved?
Video Board: Rhubarb 101 - Everything You Need To Know About Rhubarb.