The Content Of The Article:
Now come the first warm days and entice to spend a sunny hour in a deck chair. But before the spring cleaning is on: In winter storage, the garden furniture dusty and on terrace and paths, the cold season has left its mark.
Garden furniture will be fit for the new season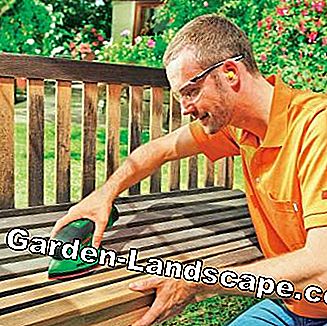 New cut for garden furniture: wood surfaces weather over time. A sander (Bosch) rejuvenates the furniture visually (left). After sanding, it is a good time to give the furniture a new look or intensify the natural wood color with a coat of paint (for example, Bondex paint) (right)
Insensitive furniture made of plastic or aluminum quickly frees a high-pressure cleaner from dust and cobwebs. When wood furniture should be careful, the hard water jet can tear the wood fibers. It is better to wipe the furniture with a damp cloth. Wood is a natural product and changes with the years. The sunlight makes the typical wood colors fade and the furniture turns gray. If you do not like the silvery tone, you can lure out the original wood color again: First a "degumming" is applied, then oiled. Important: thoroughly clean the furniture before placing the order. If the surface is rough and heavily weathered, it is best to sand it off first. In the trade, there are products tailored to the types of wood.
Clean terrace coverings
With a special attachment, high-pressure cleaners also clean wooden decks (Kärcher). So-called flat jet nozzles prevent the wood from splitting (left). When the strips have dried, a subsequent coat of oil refreshes the grayish wood (right)
Also terrace floors, paths and driveways want to be free of dirt. Depending on the material, the high-pressure cleaner also performs well here. But be careful when, for example, joints can be rinsed out. Even wooden decks can be cleaned with special attachments. The same applies here as with wooden furniture: a coat of paint provides for stronger colors. In addition, rain from waxed or oiled wood pearls better, which can extend the shelf life.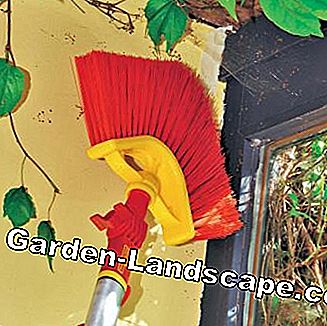 The adjustable angle broom also cleans hard-to-reach corners (left). It is mounted on the stems of the multi-star system by Wolf-Garten. A gutter cleaner (Gardena, Combi-System) removes branches and leaves that block the drainage of rainwater (right)
Use gardening tools for cleaning: For the plug-in systems from, for example, Gardena, Wolf-Garten and Fiskars, there are practical attachments such as brooms and gutter cleaners. With telescopic handles you have a greater range than with normal brooms. To the garden hose special brushes or brooms can be connected, which are well suited for the cleaning of the windows of winter garden and greenhouse or the scrubbing of floors.
Video Board: Everything You Need to Know for a Spring Garden and Yard Clean Up.