The Content Of The Article:
The rock garden is a particularly beautiful way of landscaping. A rock garden offers a home to many plants and small animals and fits almost every garden. Whether as a large area for gardens on slopes or a small rock garden on the terrace. Here you will find general information about the rock garden, as well as advice, tips and tricks for creating and maintaining the rock garden to suitable plants.
In rockeries, more plants feel better than you think.
Some coltsfoot species, some types of fat hen, winter hardy cacti, gentian, and many other plants that cope well with periods of drought. A good drainage must of course be present, because rock garden plants do not like waterlogging at all.
If you want to create a rock garden, this step must be well planned. Not only the plants, but also the stones that you want to use must be carefully selected. The stones can have any conceivable size, but should be similar in shape to each other. Do not combine round stones with square ones. That does not fit together. Rockeries fit in a sunny, or partially shaded location.
Despite their name, rock garden plants are not only dependent on stony terrain, they also thrive on well-drained soils in the full sun or slight shade. If you want to cultivate these striking, short-lived plants in your garden, you can easily refrain from creating an intricately designed rock and stone landscape. Raised beds and planted dry stone bring the precious flower jewelry closer to the eye and thus emphasize its effect.
Blue-and-white and blue-throated flowers, which bloom all over in the spring, are undemanding and unfold their magic of color most impressively when they are allowed to proliferate over the wall. Hidden, but no less attractive is the charm of the many different house roots, which develop splendidly in wall joints and columns. In contrast, high-mountain plants are more difficult to maintain, such as the gentian with its bright blue, trumpet-like flowers. Some species make the highest demands on your instinct.
Hardy rock garden plants - List of perennial varieties
A rock garden is an exceptional ornament in the garden. Plant lovers can let off steam here. In order to make the rock garden easy to maintain, special attention should be paid to the correct planting. Especially hard-care are hardy rock garden plants.
Planting rock garden plants & shrubs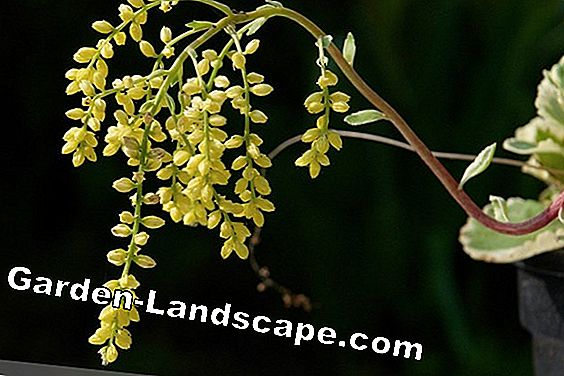 The filigree ground cover plant comes from the Caucasus and attracts attention especially by its elegant, overhanging flower clusters. The name Gold Droplets gives an indication of the arrangement of the yellow single flowers, which shine like golden droplets on the flower stem in the sun. Chiastophyllum oppositifolium is not very demanding and can be found in the right location with almost no care.

Creating a stone bed - ideas for design and plants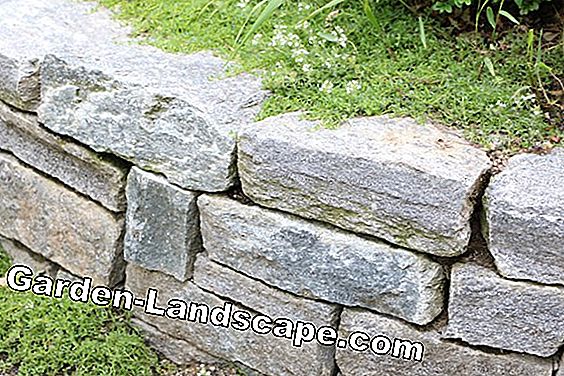 A stone bed is a great idea for designing allotments, as part of a large garden or even for the front yard. In places where other flowers are difficult to grow, for example, where they are exposed to strong sunlight or in the shade, a rock garden makes the bed still look clean and decorative.

Rock garden: Hardy cacti and succulents in the garden
So that the garden does not look desolate and deserted even in winter, it makes sense to find a place in a corner that can also be seen from the house. So a rock garden with hardy cacti and succulents can be created, which enhances the transition from autumn to spring with color.

Wonderful plants for the rock garden - List of A-Z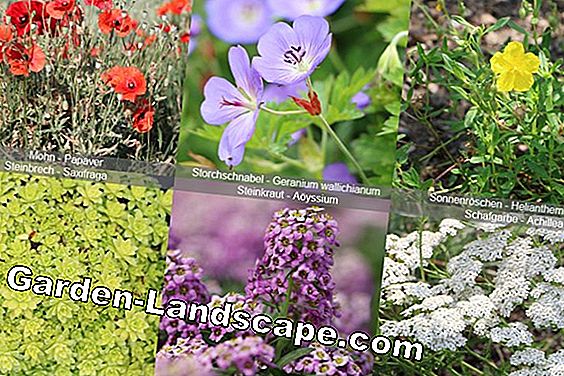 If a rock garden is created, it should have a sunny location, so that the stones do not moss. Therefore, such plants are suitable for the rock garden, which also wish a sunny location. Also, it is advisable to choose hardy varieties, then it must be planted only once for several years. For a rock garden, however, are much more plants than thought.

Rock garden plants - Ideas for shrubs, perennials and grasses
A rock garden is much more than just a few rocks and plants that grow together in between. Only with the right plant species and stones, which are arranged according to their size, a visually appealing and natural-looking overall picture is combined. The top priority here is a very loose planting in the rock garden.

Plants and wall plants for rockeries

There are a number of plants that feel comfortable not only in the flat rock garden, but also on or on walls. Here they get along well with the difficult living conditions and form a green or colorful eye-catcher, which is good for any garden wall. What do you need to know about wall plants?

Flowers and perennials for the rock garden

In a rock garden, not all plants from our climes feel comfortable because it only meets special requirements and does not offer perfect living conditions for flowers and shrubs. We give an overview of suitable representatives and point out considerations that you can not ignore when planning the rock garden.

Plants for the rock garden - ideas for planting

Rock gardens are celebrating a comeback, especially among the younger generation. The reason is plausible: they are considered to be particularly easy to care for and yet offer many possibilities for individual design. Here is an overview of suitable plants for all those who are interested in rock gardening.

Stone garden perennials - perennials for rockeries

Mountain landscapes like alpine holiday regions can best be recreated in your garden on a slope facing south. In order to make the rock garden look authentic and its shrubs thrive, a little reflection on the natural environment of the plants and the appropriate stones is necessary.

Drywall build yourself - materials and instructions

Slope fortifications, but also flat property boundaries can be fixed with dry stone walls. As the name suggests, these are walls that are built without mortar or other binders. What needs to be considered step by step in the home construction and which planting is offered, we explain in this manual.

Create dry wall and plant

For thousands of years, dry stone walls have been erected to secure slopes or demarcate open spaces. Nowadays, they also serve to set attractive accents on real estate. Their ecological advantage is that they provide a habitat for rare plant species. With careful planning and preparation it is also possible for home gardeners to build a solid and beautiful drywall.

Popular hardy rock garden plants

Dwarf plants, which normally grow in the mountains and on stony ground, are referred to as rock garden plants. Perennials, shrubs and dwarf shrubs are included. In this article we introduce popular representatives who are perennial and hardy.
Video Board: Amazing Rock Garden Design Ideas | Rock garden ideas for front yard.