The Content Of The Article:
Strawflowers look great not only in the garden, but also in dry bouquets. Here therefore everything for the sowing of straw flowers and for the care.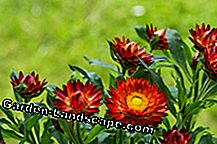 A few years ago, the flowering straw flower in many of our gardens was native to many of our gardens, but has unfortunately been increasingly forgotten in the recent past. And this despite the fact that she cuts off well in late summer and lets it dry, and that later she could often find her place in a dry arrangement.
Also, the straw flower counts to the easy-care plants in the garden bed, but must be re-seeded every year, as long as the individual perennials can not be overwintered frost-free. In a suitable place, the straw flower can provide by ejecting its seed but also for an independent new sowing in the fall. Otherwise, here once described how you can sow the straw flower itself.
Sowing the annual summer flower
Strawflowers are available in a colorful mix of pink, red, orange, white and yellow flowers, sometimes combined in multiple colors. No matter which color you choose, you can prefer the straw flowers to the window sill as early as April, or sow directly in the field from May (immediately after the sacred ice). In both cases, you must always push the fine seed into the ground only slightly.
When sowing, however, you should note that the straw flowers clearly prefer a full sun and dry soil conditions.
Properly care for straw flowers
»Promote flowering:
The early flowering plants start already in June, the plants sown in the field already from the end of June / beginning of July to bloom. Then they will bloom until October. However, as soon as the flowers start to wilt, they should be removed immediately to encourage the rapid development of new flowers.
»Watering:
Although the straw flower clearly prefers dry soil, you need to water it on very hot days. In this way, you can even hold the straw flower in large tub containers without any problems.
»Fertilization:
During growth and just before flowering, you can strengthen the straw flower with a small full-bodied. As soon as the straw flowers bloom, it is not recommended to use further fertilizer. However, you should support tall flowering plants from this point on if necessary, so that they do not bend too fast in wind and rain.
»Wintering:
Most varieties of the straw flowers are not hardy. Therefore, you must either overwinter the flowers in a frost-free room, or protect them sufficiently in the field against the winter frosts.
Tip - dry straw flowers:
Strawflowers just look great in dry bouquets. That's a great homemade gift from the garden. You just have to dry the strawflowers first. Just cut open half-open flowers as long as possible and hang them in a cool, dark place.
Video Board: Strawflower how to use and Description.