The Content Of The Article:
In order for rhododendrons to develop well, in addition to the right climate and suitable soil, the mode of propagation also plays an important role. Above all, the last point in professional circles repeatedly for discussion. Therefore, the same rhododendron varieties were planted and observed over several years as part of a nationwide survey of trees at various locations - including the horticultural teaching and research institutes in Bad Zwischenahn and Dresden-Pillnitz. Significant differences in growth, according to Björn Ehsen of the teaching and research institute for horticulture in Bad Zwischenahn only became visible after a long service life.
Rhododendron roots in comparison
Big-flowered hybrids - here the variety 'Germania' - were best presented on the INKARHO underlay. It is a high-lime tolerance processing material bred by the "Interessengemeinschaft Kalktoleranter Rhododendron" (INKARHO) - an association of various tree nurseries. Similarly well developed 'Germania' on the 'Cunningham's White' document. This is still the most common because it is well tolerated and very vigorous with almost all large-flowered Rhododrendron hybrids as well as many other hybrid groups and wild species. On soils with a pH above 6, however, it tended to have a slight yellowing of the leaves. This so-called Kalkchlorose occurs in all calcareous plants when the pH is too high. Symptoms arise because iron absorption is disturbed under these conditions. Significantly weaker growth, stronger chlorosis and fewer flowers showed on the other hand meristemvermehrte, so not grafted plants.
Rhododendron 'Germania' on INKARHO underlay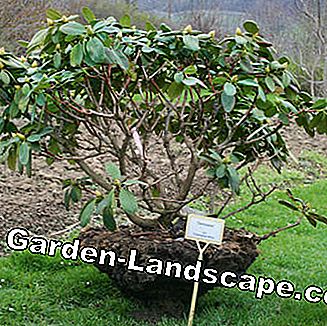 Large-flowered hybrid 'Germania' (left) and a copy propagated by meristem culture (right)
The appearance of the root ball also speaks a clear language: A voluminous, firm and sharply demarcated bale indicates an intensive rooting. The smaller and more friable the soil ball presents, the worse the root system is formed.
Conclusion: If the soil in the garden is not optimal for rhododendrons, it is worth investing a bit more money in plants that have been refined on the lime-tolerant INKARHO substrate. Of meristemvermehrten Rhododendron you should generally keep your hands off.
Video Board: Air Layering Rhododendrons: How to Propagate those Hard to Root Varieties..