The Content Of The Article:
The summer cut is very easy with climbing roses, if one takes heed the division of the climbing artist in two editing groups. Gardeners distinguish between more flowering and single flowering varieties.
What does that mean? Flowering roses bloom several times a year. They grow much weaker than their once-flowering colleagues, because they consume a lot of power for the constant flowering. They reach heights of two to three meters and decorate archways and pergolas. A summer cut can even increase their flower power. For this, cut off the withered single flowers or flower clusters of the short side shoots just above the first fully developed foliage leaf below the flower, so that the more often blooming climbing roses can form new flowering plants in the same summer.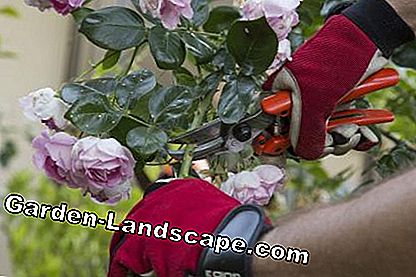 The removal of withered inflorescences promotes the formation of new flowering plants. For tufted species such as 'Jasmina' (photo), cut off the entire inflorescence directly above the first five-part leaf
The group of once-flowering climbers is home to the majority of rambler roses, which with their strong growth can reach heights of over six meters and like to soar into tall trees. They do not blossom on the Neutreten, only from the perennial long shoots flowering side shoots spring next year. A summer cut is not only a security risk for high specimens, but also makes little sense. He would bring you the rosehip splendor of many rambler roses.
The white-flowering rambler variety 'Bobby James' does not need a summer cut. In the fall, it delights with countless rose hips, which are often accepted by birds
Guide climbing roses correctly
Climbing and rambler roses are among the so-called Spreizklimmern. That is, they have no holding organs in the classical sense and can not wind themselves. Lattice widths of at least 30 centimeters are ideal for the climbing artists to anchor themselves well to the scaffolding with their spikes and protruding side shoots. The long shoots should be steered not only in the height, but also to the side, because it is mainly the flatter growing shoots that form a particularly large number of flowers.
Video Board: How to prune your climbing rose.