The Content Of The Article:
The countless flowers of the hanging begonias 'Summerwings' shine from May to October in fiery red or energetic orange. They cascade over the elegantly overlapping leaves and ignite regular beacons in hanging baskets, window boxes and other planters. The 'Dark Elegance' variety presents itself particularly spectacularly: the contrast between the bright red inflamed flowers and the attractively serrated foliage, which alternates between dark green and black-red foliage, with a striking leaf pattern gives the summer beauty an almost sophisticated appearance.
Subtle flowers in pink, white and vanilla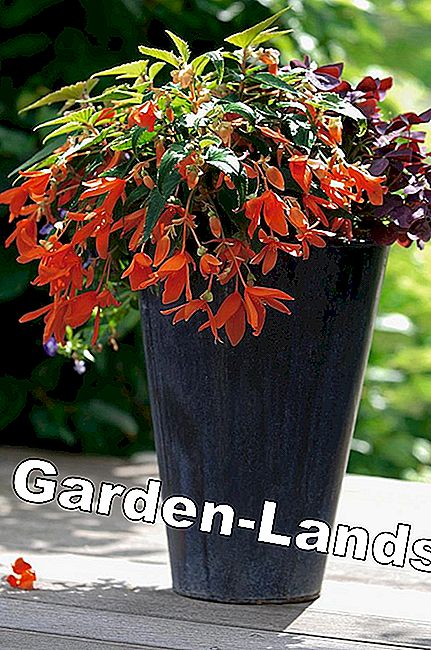 The hanging begonia 'Summerwings Orange' attracts attention on the terrace.
For those who love the easy-care hanging begonias of the newest generation, but like a bit more subtle, you can enjoy the clear colors of 'Summerwings Rose', 'Summerwings White' or the shimmering silk flowers of 'Summerwing's Vanilla'. The delicate-looking flowers, which are characteristic slotted flowers as in all Summerwings begonias, are particularly well accentuated by the light green leaves.
Bloom for sun and shade
'Dark Elegance' is a hanging begonia with bright red flowers and burgundy foliage
Who looks so dazzling, must be a diva? On the contrary: The new hanging begonias not only unites their slightly overhanging, wonderfully dense growth, with which they transform hanging baskets and plants into flower balls that are visible from afar. They are also extremely robust and surprisingly undemanding. In the shade the perennials flourish as reliably as in the full sun. Even temporary dryness can not affect the easy-care balcony and terrace plants.
Avoid waterlogging
There is something that Summerwings begonias do not like at all: waterlogging. Therefore, choose a permeable planting substrate and make sure that there is a good drainage in the pot - if drainage holes are missing, a drainage layer of at least five centimeters made of gravel or expanded clay is recommended. So prepared and supplied with liquid fertilizer in the irrigation water once or twice a week, you can inspire the hanging begonias to peak performance from May to October.
Video Board: .