The Content Of The Article:
Pesto Genovese know almost everyone. But did you know that you can make a pesto out of Swiss chard? That's easy and can always be changed.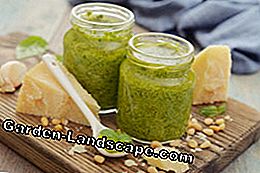 Like the Swiss chard, the pesto comes from the Mediterranean. So why not make a pesto out of Swiss chard? It is uncooked sauce, which is used in Italian cuisine primarily for the refinement of pasta dishes. But also to bread and different meat dishes the mashed sauce fits great.
Many only know the classic pesto Genovese - but to eat only the same thing, can really get boring with time, right? Try something new. Very delicious tastes, for example Peanut pesto. For those who do not like it nutty, maybe a chard pesto is something for them. It is prepared in just a few minutes and tastes fantastic. Moreover, it can be modified at any time.
This is how you make the classic Swiss chard pesto
Ingredients (for four people):
300 g of chard
3 sprigs of rosemary
80 g of grated Parmesan cheese
1 clove of garlic
3 tablespoons of roasted pumpkin seeds
80 ml of olive oil
1 lemon
salt
pepper
Preparation:
In the first step, separate the chard leaves from the stalk. Now only the small plucked leaves are needed, which you have to blanch briefly in boiling water. Then drain in a sieve. In the meantime, pluck the needles from the sprigs of rosemary and chop them very small. You also have to chop the garlic clove. Then squeeze the lemon and hold the juice back. Now puree with a blender all ingredients to a creamy mass. Then season with pepper, salt and the lemon juice. And the delicious mangold pesto is ready.
This is how you can modify the Swiss chard pesto
The recipe just described is a basic recipe that you can naturally modify as you wish. Here are some ideas:
Mangold Nut Pesto:
If you like it more nutty, you can prepare the pesto with 50 g of chopped and roasted hazelnuts or with pistachio, cashew or pine nuts instead of pumpkin seeds. But then leave the lemon juice away. It tastes better.
Mangold and herb pesto:
Of course, you can also refine the pesto with a few herbs. In principle, you can take all you like. Parsley fits e.g. very good.
Asia and chard pesto:
If you like, you can also add a little soy sauce and maple syrup to the pesto. So it gets a very different, but still very tasty and slightly Asian taste.
Video Board: Paste recipes - Everyday Italian: 125 Simple and Delicious Recipes by Giada De Laurentiis.