The Content Of The Article:
They provide protection against sun and rain - terrace roofing. Anyone who wants more than just an awning usually does not get around them. But many shy away from the enormous costs. Significantly cheaper, if one uses products from Poland. But does that really pay off? The answer: It all depends - for example on who is installing the canopy.
Products from Poland
Products from Poland are generally considered cheaper than those from Germany. The reason for this is above all the significantly lower wage and wage costs in the former Eastern bloc country. The current average wage is there at a modest 610 euros gross. Although well-trained craftsmen and industrial workers earn more, the € 1 000 mark is rarely exceeded. Since the production of terrace roofing is relatively labor-intensive and can hardly be carried out by machine, it is not surprising that Polish products cause much less cost in manufacturing than German ones. In addition, the material needed in Poland costs far less. Depending on the model, it can save between 20 and 50 percent - an order of magnitude that tempts many homeowners.
quality
There is usually no need to worry about the quality of terrace roofing from Poland. It fully meets Western standards and is absolutely up to date. Polish craftsmen and workers are usually very well trained and skilled. Not for nothing they find work with their skills throughout Europe. In the UK, for example, they have long since outdated native craftsmen. Also, the materials used meet the usual quality standards - regardless of whether it is a roof of wood, glass or aluminum. As Poland is a member of the European Union (EU), importation is also no problem. Thanks to the free movement of goods, there are no customs duties. Moreover, because of EU membership, Polish products are also subject to the Union's security and warranty requirements.
sticking points
So there is nothing to explain about the quality. It is also clear that terrace roofs made of poles are generally cheaper than those made, for example, in Germany. At first glance, everything speaks for these products. The devil is also in the detail here. With the roofing alone it is not done. The following questions or sticking points can open up:

How come the canopy from Poland to Germany?
What is the cost of transport?
Who is installing the canopy over the terrace?
What costs are incurred for this assembly?
Assembly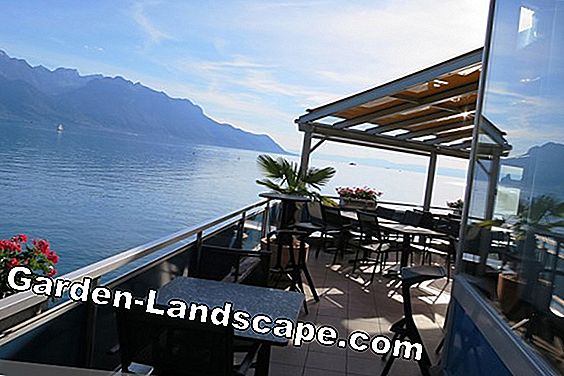 Depending on how the answers to these questions turn out, the total cost of a patio roofing in Poland can increase significantly and perhaps even erode the total savings. Consequently, you have to be careful in hell, so as not to fall into a cost trap. Basically, you should be aware that the production of the individual roof elements only makes up part of the costs. Much more serious are usually the costs incurred by the labor-intensive and time-consuming assembly. Anyone who has to rely on German craftsmen here has most of the time quickly nullified the cost advantage of Polish products. An alternative would be self-assembly. But this requires a certain skill and experience. In addition, it needs more than just one performer.
delivery
The transport costs can be a problem very quickly. Since it is the relatively large and heavy parts in the individual elements of a roof terrace, usually only the delivery by means of freight forwarding in question. Basically, a delivery from abroad always costs a bit more than a domestic one. It is also necessary to clarify who organizes the transport - the manufacturer or the customer. If you live near the Polish border, you may also consider picking up the material yourself. Often, near-border manufacturers from Poland also offer direct delivery and possibly even assembly.
As a rule of thumb, the further away the manufacturer sits, the more expensive and sometimes more complicated it becomes.
cost comparison
If you really want to save money with terrace roofing from Poland, intensive cost comparisons are essential in advance. In any case, the price of the product itself must not be the sole decisive factor. Rather, it depends on the additional costs of transport and assembly. It is best to get several offers from German and Polish suppliers and compare them.Under certain circumstances, it may be that a German full-service provider, then comes at a better price than you might think at first glance.
Tip: In order to obtain viable offers, detailed information about the planned terrace roofing is essential (material, size, shape). The more accurate the information can be, the more meaningful the offer will be.
Granted, such cost comparisons are costly and time consuming. However, they are important in order to get an accurate picture and then to be able to make a sensible decision. The time invested here is worth the money.
checklist
No matter whether you decide for a German or a Polish provider - you usually have to do the planning yourself. In other words, you should already know what exactly wants to actually. Important points are:

What material should the patio roofing be made of? Wood, a combination of wood or aluminum and glass or pure aluminum, are considered.
Should the roof be transparent or opaque?
Should a sunshade be integrated with a glass roof?
Should the mounting be done on the house wall or alone by means of a support structure?
Are foundations necessary for a support structure?
What shape and size should the roof have?
Part of the decision-making process is that it is clear that wooden structures and glass roofs need to be regularly maintained or cleaned. Wood inevitably requires a new coat of paint at certain intervals. In turn, a glass roof only makes sense in the summer when it is cleaned regularly.
Polish full-service provider
Of course, resourceful entrepreneurs from Poland have long since discovered the potential that the German market offers in terms of terrace roofing. Therefore, they also offer so-called complete solutions, which include transport and assembly. Such providers can be found relatively easily over the Internet. The cost advantages are, however, lower. For one thing, these providers know exactly what German companies are asking for a complete terrace roofing. On the other hand, they can of course pay for the journey and work in other EU countries with a surcharge. You can still save money. Anyone looking for a Polish full-service provider should definitely make sure that communication in German is also possible to avoid misunderstandings. It is also necessary to check the seriousness of the provider. Important questions:

How long has the provider been on the market?
Can he show references from Germany?
Are there customer reviews?
How does the payment work?
Incidentally, a complete provider from Poland should be ready to take a look at the situation on the ground in advance. A local appointment is essential for this. It is quite possible that you will receive a concrete offer only after such an inspection. Polish full-service providers are certainly the optimal solution if you decide on a terrace roofing from Poland. You get everything from one source and do not have to worry about the delivery and the installation separately. Whether canopies from Poland actually count, of course, always depends on the individual case. In any case, it's not quite as simple as it is often suggested.
Video Board: How to FIBREGLASS A ROOF - How to Fibreglass a Bay Roof DIY.