The Content Of The Article:
Terracotta pots are real classics. They often spend decades in our gardens and become more and more beautiful as they get older - as they slowly start to patinate. But the burned clay is by nature a very brittle material and sometimes you can still be so careful - it happens: You come across the gardening with the lawnmower against it, a gust of wind throws him or waterlogging freezes inside. This does not necessarily mean the end of the beloved terracotta pot. Because cracks and broken parts can easily be glued and the flower box repaired.
Repair terracotta with glue
The best way to repair terracotta pots is to use water-resistant two-component glue. This not only sticks the individual fragments together, but also fills in smaller gaps or gaps. This is especially helpful for repairs if the sections do not have smooth edges.
Repair Material:
fine brush
Two-component adhesive
duct tape
sharp knife
possibly water-resistant paint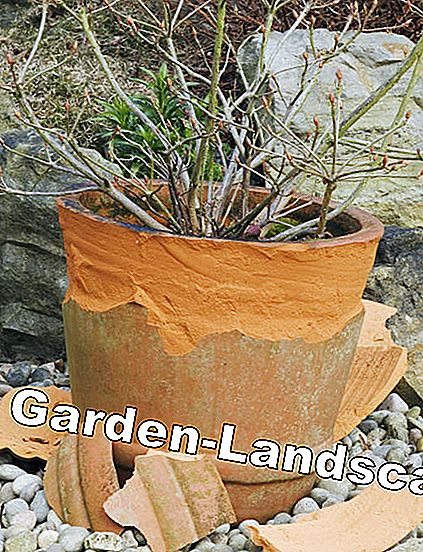 The cleaner the break, the easier it is to glue the pot together
Remove cracks or cracks from dust with a brush.
In case of only a fragment of this, dry-assemble with the empty terracotta pot, as the glue only has a short processing time.
Then apply adhesive on both sides, insert and fix tightly with adhesive tape. With cracks the same procedure is used.
If there are several parts, put them dry as well. Stick an adhesive tape taut on one side over the composite terracotta fragments so that they do not slip any more. Take from the pot. Now the tape with the individual pieces attached to it can be opened like a book. Apply two-component adhesive on both sides of the breaklines and fold them together again. Firmly fix with a second tape.
Allow to cure, peel off adhesive tape and remove any remaining adhesive with a sharp knife. For several cuts, these are now attached as the only fragment in the same way on the terracotta pot.
To protect the glued area against moisture from the inside, you can now seal it with a protective layer of waterproof paint of a few centimeters wide.
Smaller cracks and breakages in small pots are repairable even with superglue.
Tip: Embellish repaired areas
If you want to give the patched terracotta pot an extra personal touch, you can also laminate the repaired areas with acrylic or enamel paint. Or stick small mosaic stones, marbles or stones on them, which set playful accents. The fantasy knows no limits!
When glue is no longer enough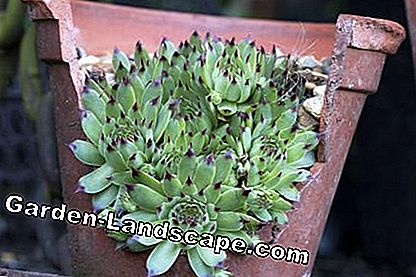 Succulents also feel well in broken terracotta pots and harmonize wonderfully with the "used look". So the cracked pot becomes a real eye-catcher
Sometimes the break is broken in so many pieces that you can no longer stick the terracotta pot. Nevertheless, the pot is not lost and can still be very decorative. For example, plant it with cacti or succulents that grow out of the break. So you miss natural, Mediterranean or rural gardens beautiful details - without glue.
Video Board: What Kind of Glue Could You Repair an Outdoor Ceramic Flower Pot With? : Making Pottery.