The Content Of The Article:
You plant bulbous flowers in autumn, so you can enjoy their colors in spring. Also, the members of our Facebook community are big fans of bulbous flowers and have given us a small survey of the species and varieties they plant this year.
The checkerboard flower (Fritillaria meleagris) convinces with its unique pattern
These bulb flowers plant our users
Karo K. is in the process of setting ornamental onion and fritillaria and is already looking forward to next spring.
Stela H. has already planted 420 daffodils and 1000 grape hyacinths and is planning more.
Will S. has planted ornamental lilac and wants to follow daffodils next.
Nicole S. now wants to put her onion flowers as well. This year it will be tulips, daffodils and ornamental onions.
Eugenia Doina M. plants bulbous flowers every year. This time she's planning tulips, daffodils, hyacinths and more.
Start photo gallery
7
Show all
Recommended onion flowers
When planting tulips such as the variety 'Orange Emperor', make sure you have a good drainage under the bulbs - they start to rot very quickly in a permanently moist environment
Planting time for the bulbs of the Märzenbecher (Leucpjum vernum) is from September to October. They are set about ten inches deep. The planting distance should also be ten centimeters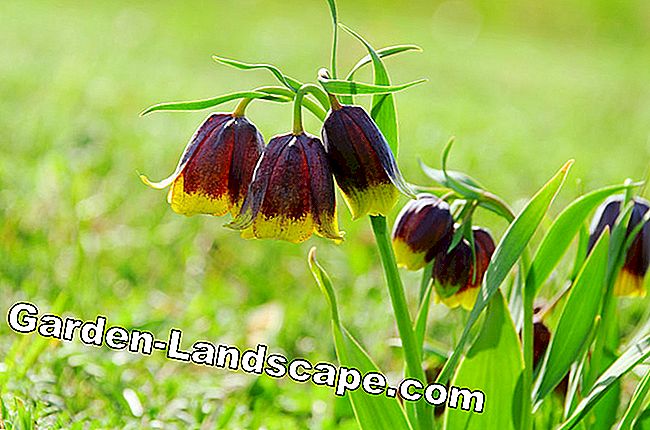 According to their location requirements, the low checkerboard flower is planted in small groups - preferably on fresh to moist soils, for example in a wet meadow or on the banks of the pond
Daffodils are among the stars among the bulb flowers
Crocuses need, once planted, no special care
The blue hues of grape hyacinths give the impression of breadth
Ornamental Lily reaches depending on the species a stature height of 12 to 150 centimeters

Christel F. is a real tulip fan and wants to plant them in all colors and variations.
Annegret W. has already brought 360 bulbs into the ground. Among them were crocuses, tulips, daffodils, garlic and checkerboard flowers.
Narcissus and Co. have multiplied themselves in Klara G., so they only want to plant tulips this year. She is already looking forward to the colorful colors that will be on display in spring.
Gabi N. creates space in her garden for a variety of tulips, including Persian Perl, Orange Emperor, Bright Parrot and Tulipa humilis Violacea Black Base. But also checkerboats (Fritillaria meleagris), snowflake (Leucojum vernum) and Hawera daffodils are to be planted this year.
Ron N. is a real fan of ornamental roses and is planting it in different colors and sizes this year.
Video Board: Onion Flower (Onion bolting) | GardenGraduate | User submitted Series.