The Content Of The Article:
Thistles are often dismissed as weeds - wrongly, because many species and varieties not only have beautiful flowers, but behave in the perennial flowerbed also very civilized. In addition, her usually silvery or bluish glow brings variety in the green leaves dress the perennial beds. Thistles are also easy to care for, robust and can cope well with dryness and lean soil. They bloom in the summer, but even outside the flowering season they are pretty to look at, especially in the winter, when hoarfrost brings the seeds to sparkle or the snow puts on a white cap. Their place in the perennial bed, pebble or rock garden they have earned in any case honestly.
The term "thistle" includes many prickly plants of different genera. While periwinkles (Echinops) and red thistle (Eryngium) perennials thrive each year, Ring Thistle (Carduus), Thistle Thistle (Cirsium), Thistle Thistle (Carlina acaulis) and Thistle Thistle (Onopordum) are short-lived guests in the garden. In the first year, the so-called two-year-old grow into a leaf rosette, in the following year they flower and then go in. They are easy to grow from seed or even provide by sowing for offspring. Despite their short lifetimes, some of them reach amazing sizes. The donkey thistle, for example, is over two meters high.
Hoarfrost enchants the seeds of the ivory thistle (Eryngium giganteum)
This is how thistles thrive best
All thistles are sun worshipers. And almost all prefer a rather dry and meager location. The color of blue species is also the most beautiful here. An exception is, for example, the purple-thistle, which it likes moister. The Alpine man litter prefers fresh, humus-rich and nutrient-rich soil.
Give big thistles enough space in the bed and it is best not to plant them on the edge of the path - so you do not get in touch with the spiny fellows involuntarily. The best planting times for the bushy ball and Edeldisteln are spring and autumn. The two-year-old species are sowed in summer or late summer - ideally on the spot, because the long tap roots can be poorly transplant. Thistles do not need special care. They should not be pruned until March, because in autumn and winter they give structure to the bare perennial beds.
Staged: planting partner for thistles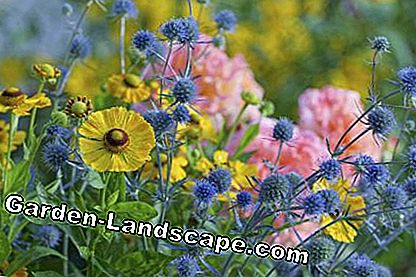 Well combined: Flat-leaved manly litter 'Blue dwarf' (Eryngium planum), common sun hat and ornamental grasses
Thistles are expressive plants that attract attention not only with their flowers, but with their entire growth. They are particularly suitable for sunny, dry places such as gravel or prairie bed. Plants with large flowers such as coneflower, common sunhat, yarrow, bearded iris or maiden eye make a nice counterweight. These match fragrance nettle, blue and other plants with flower candles. With their bright green-yellow spurge also species are good partners - their foliage fits perfectly with the blue of the precious thistles. In addition to the more rigid thistles, ornamental grasses ensure lightness. Similar claims as ball and Edeldistel have for example Blauschwingel, feather grass, mosquito grass or shivering grass.
Thistles are also very popular with animals
With its long beak, the goldfinch picks the seeds from the inflorescences
Not only visually are thistles an asset to the garden. They are also a valuable source of nectar for bees, butterflies and other insects. In the cold months birds are happy about the countless seeds in the withered flower baskets. The goldfinch does not bear his second name "Distelfink" by accident. Often you can watch him sitting acrobatically on a flower head and pulling out the seeds with his long beak.
Jewelery for bouquets and arrangements
The flower heads of different species can be arranged nicely
The bizarre flower and fruit stands arouse the imagination of florists and hobby decorators. You can tie thistle flowers fresh in summer bouquets or use the seeds dried seeds for arrangements. During Advent, metallic spray paint helps them to shine. A tray full of different flower heads is simple but very effective. Cut ball thistles before the first flowers open, and hang all thistles upside down to dry.
Sea Holly
Alpine man litter 'Blue Star' (Eryngium alpinum)
Among the noble thistles, also called man litter, one finds many exciting garden forms. In them, a prickly leaves wreath sets the flower heads in scene. It is particularly pronounced in the Alps man litter (Eryngium alpinum). A classic is the Little Man Litter 'Blue Cap' (Eryngium planum), which enriches the bed with metallic blue heads. The variety is about 70 inches high. The ivy thistle (Eryngium giganteum) is about the same size, but has much larger, silvery flowers.Unlike the other noble thistles, she is only two years old. All thistles need a sunny spot and permeable, rather dry soil.
globe thistle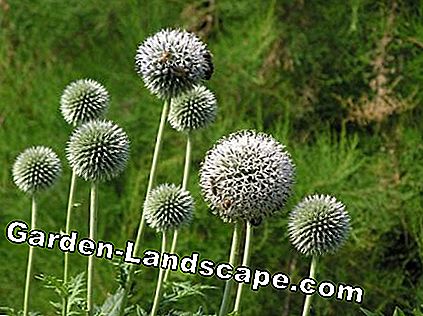 The glandular thistle (Echinops sphaerocephalus) has white flower-balls with a light blue-gray shimmer
Ball thistles (Echinops) have perfectly shaped flower balls and can absorb it with any shrimp. Particularly well-known variety 'Taplow Blue' (Echinops bannaticus), which is about 120 centimeters high and produces a lot of intense blue flower balls. A good alternative in white is 'Arctic Glow' (Echinops sphaerocephalus). Particularly unpretentious is the smaller thistle Echinops ritro. She cope even with the leanest soil. On too nutrient-rich or moist soils, all thistles are less stable, while a rather dry, nutrient-poor soil is ideal. In such a place, they can be wonderfully combined with other drought-loving perennials such as yarrow, alant, purple scabious or gypsophila. Even grasses like blue winged or feather grass are great partners.
Purple Thistle
Purple Thistle (Cirsium rivulare)
This thistle dances a bit out of line. Even her dark red color is unusual. While most thistles prefer dry soils, the Crisp Thistle (Cirsium rivulare), which naturally occurs on stream banks and wet meadows, tends to be wetter. Also, she is surprisingly little scratchy for a thistle. The wild species is very colorful, so you should choose the sterile variety 'Atropurpureum' for the garden. Matching partners who also need moist soil are marsh marigold, Felberich and meadow iris.
Milk thistle
Milk thistle (Silybum marianum)
The white-veined leaves make the about 150 centimeters high milk thistle (Silybum marianum) the unusual foliage plant. In the second year she shows magenta flowers, then she enters. For further cultivation you can collect some seeds. Usually, however, the milk thistle itself provides for offspring - often even plenty. Supernumerary seedlings should be removed from their beds before they get prickly leaves. The milk thistle is an old utility and medicinal plant. Both the leaves and root and flowers are edible. But much more important today is the active ingredient complex silymarin. He is used in liver complaints. Incidentally, the milk thistle bears her name because her striking white pattern on the leaves of the legend comes from the milk of the Virgin Mary. Not surprisingly, the plant is said to stimulate the milk flow of nursing mothers.
teasel
Wild card (Dipsacus fullonum)
Teasels are stately plants that can grow up to three meters high. Their flower heads are correspondingly large. Like the wild card (Dipsacus fullonum), the other species open their buds ring-shaped. In the Weber card (Dipsacus sativus), the tips of the flower heads are barb-shaped. This scratchy property is used earlier to roughen fabrics and make it more supple. The flower heads were pierced and stretched in so-called hand scratching or scratching rollers.
Picture gallery: Decorative thistles
Start photo gallery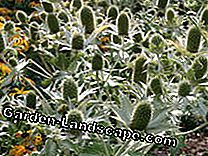 10
Show all
Photo gallery thistles
The flat-leaved man litter (Eryngium planum) grows richly branched and shows its blooms at 50 centimeters high stems. A particularly beautiful blue shows the variety 'blue cap'
In the Alpine man litter (Eryngium alpinum), the spiny wreath under the flower head is particularly pronounced. The species likes humus rich, nutrient-rich soil and is about 70 inches high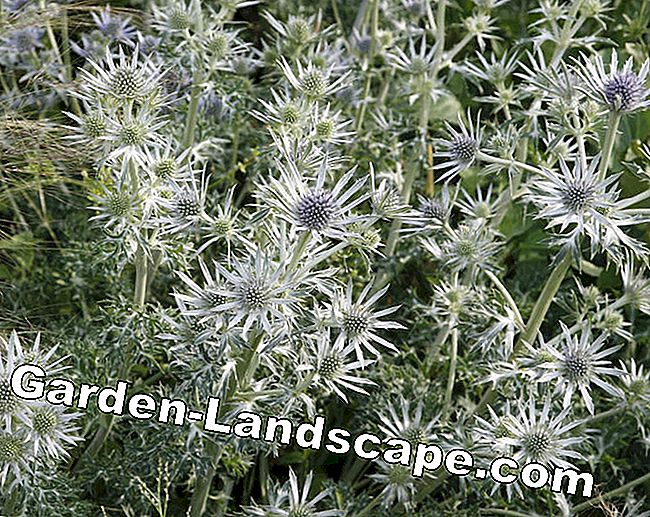 The Spanish Edeldistel (Eryngium bourgatii), also called man litter, remains small with only 40 centimeters and fits well in rock gardens
The botanical name "giganteum" indicates the strikingly large flowers of the ivory thistle (Eryngium giganteum). She is about 80 centimeters high and is two years old
An unusual color is the Crisp Thistle (Cirsium rivulare), which is suitable for moist soils. The variety 'Atropurpureum' is a valuable species for the garden
Blue flower balls shows about 80 centimeters high ball thistle (Echinops ritro). She should stand on dry, lean soil
The Nodding Thistle (Carduus nutans) bears her name because the heavy flower heads are tilted to the side. One should use the two-year-olds with caution in the garden, because by self-sowing it can become annoying
The small silver thistle (Carlina acaulis) is ideal for stone and pebble gardens. The plant, also valued as a dried flower, is rather short-lived
The two-year milk thistle (Silybum marianum) has beautifully marbled foliage. The 150-centimeter-high plant sows itself in appealing locations itself - sometimes too abundant
In the donkey thistle (Onopordum acanthium), the silvery foliage is more impressive than the flower. The two-year-old is up to three feet high and is such a real eye-catcher in the garden

Video Board: Prickly Sow Thistle with Birdsong by a White Eyed Verio.