The Content Of The Article:
Tree ferns (Cyatheales) are extraordinary creatures that have inhabited the earth since the Jurassic period about 180 million years ago and have hardly changed until today. The so-called real tree ferns have a straight trunk with a crest of multi-feathered fern fronds. Such crested trees are found mainly in two fern families, the Dicksoniaceen and Cyatheaceen.
Many tree ferns throw off their leaf fronds completely - then a stigma pattern remains on the trunks. In other species, the stems are covered by old Wedelansätzen. These uneven surfaces are often colonized by epiphytes. In addition, there are species in which the dead fronds are completely preserved. They bend down and form an impenetrable cloak in the upper trunk area. Thus the Aufsitzerpflanzen are prevented from colonizing the top area.
A new fern frond unrolls
Because stems of tree ferns, in contrast to seed plants show no thickness growth, the necessary stem resistance is achieved by special mechanisms: For example, the whole trunk is supported with numerous budding roots (Dicksonia species) or a solid coat of roots stabilizes the lower stem area (Cyathea species ). The growth and development of new fern fronds takes place at the shoot tip, which lies in the center of the rosettes. The young leaves are first rolled into a hairy snail, which later pushes up and unrolls.
Tree ferns feel well in the tropical and subtropical areas of the world. Some species also live in low-light undergrowth of permanently wet, New Zealand and Australian forests. They basically do not tolerate a constant dryness. There are some species, such as Dicksonia antarctica, that endure even mild frost periods.
Tree ferns as ornamental plants
In the 19th century, the first tree ferns were imported to England. There they became popular plants in tropical homes. In areas with a maritime climate and low frost, for example in southern England, tree ferns are even cultivated in landscaped parks and gardens. In recent years, the tree ferns also found their way to us. These are primarily species of the genera Cyathea and Dicksonia.
Maintain and overwinter tree ferns
Tree ferns are usually kept as potted plants. Ideal is bark humus to which you add coarse-grained components such as lavagrus, expanded clay or gravel for ventilation. From spring to the first light frosts, the plants can spend their time outdoors, preferably in a partially shaded to shady, sheltered location. In winter they move to a very bright, cool room or to the conservatory. Alternatively, tree ferns can be cultivated throughout the year in the conservatory.
Whether outdoors or in the conservatory, tree ferns should never dry out. Important: Keep not only the earth moist, but also the leaves and above all the trunk must be regularly showered with water. This allows the fibrous tissue surrounding the stem to soak up water and hydrate the entire plant. Fertilization is from April to September every 14 days with liquid fertilizer. In winter-mild areas of Germany you can even plant some tree ferns such as Dicksonia antarctica. But experts advise against, because on sunny winter days it often comes to dry damage.
In the following picture gallery we present you some tree fern species, which are offered in our widths as ornamental plants for the tub.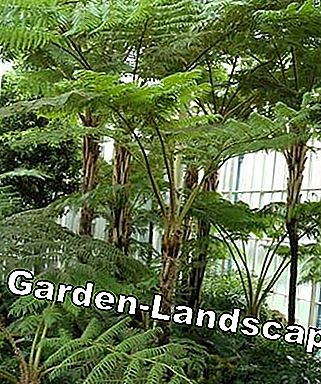 Start photo gallery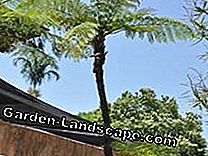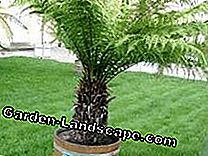 7
Show all
Tree Fern: A relic from prehistoric times (7)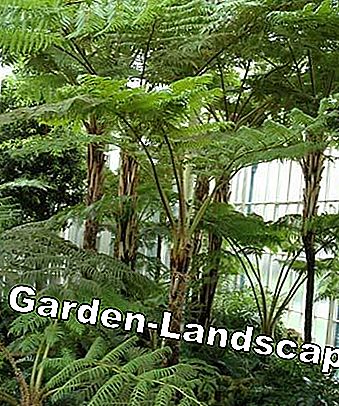 The Australian tree fern (Cyathea australis) impresses with impressive, dark green, up to three meters long fronds. Of the three types of tree fern we offer, it tolerates dry air best.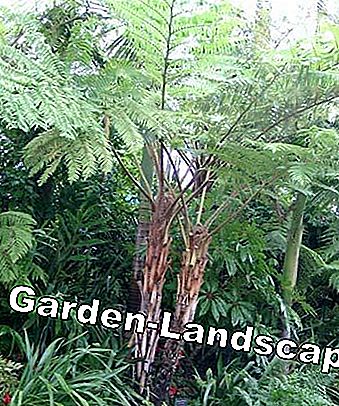 Norfolk tree fern (Cyathea brownii) grows relatively fast and reaches a height of 1.5 to 3 meters.
The shed-tree fern (Cyathea cooperi), also called straw-tree fern, can grow two to five meters high. It differs from other ones by its silver-gray leaves, which can become very long.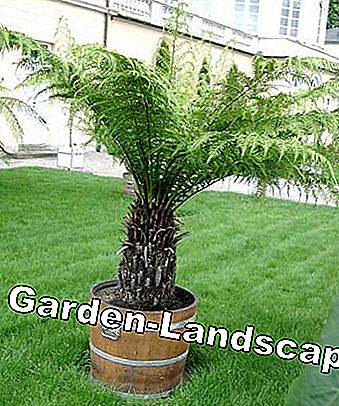 The Antarctic tree fern (Dicksonia antarctica) is one of the slow-growing tree ferns. However, it can reach a trunk diameter of 40 centimeters and be up to six meters high. The Antarctic tree fern has the greatest frost tolerance. all tree fern species cultivated here in Central Europe.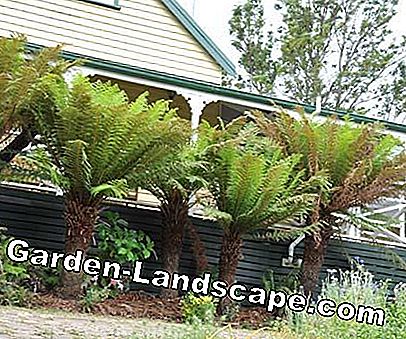 Dicksonia antarctica is native to the Eastern Australian mountain forests, Tasmania and some sub-Antarctic islands.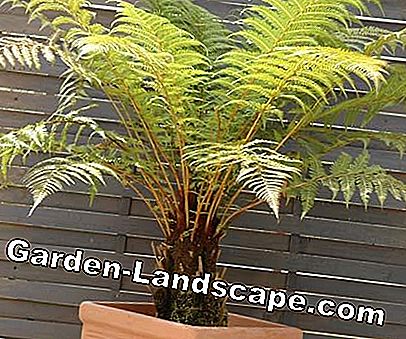 Dicksonia fibrosa, also known as Golden Tree Fern and Filziger Pocket Fern, is recognizable by its squat shape and dense fronds. He belongs to the slow-growing tree ferns.
The New Zealand Fern Fern (Dicksonia squarrosa) develops a slender, tall stem that is almost black - a stark contrast to the green of the fern leaves, which are between one and two feet long.






Video Board: Tall And Beautiful Dicksonia Antarctica - How To Grow.