The Content Of The Article:
Trees with hanging branches are an effective design element in every home garden, because they are not only an eye-catcher during the season, but also impress during the deciduous time in autumn and winter with their picturesque crowns. Important: All cascade trees are solitary, they do not fit in too close plant communities. Only with an unrestrained growth can they fully develop their crown shape. It is best to plant the tree in the middle of a lawn or at a driveway.
Different hanging forms
The Hanging Kitten Willow (Salix caprea 'Pendula') remains so compact that it can even be cultivated in large planters
Basically, there are two types of hanging: The first group consists of trees, whose thicker branches grow normally, while all thinner branches overhang. Good examples of this type are the Himalayan cedar (Cedrus deodara) and the weeping willow (Salix alba 'Tristis'). The second group develops a crown with completely drooping branches. In catalogs and plant lists you can recognize these cascade trees by their name addition 'Pendula'. This species name is usually attached to the species name. Example: The Hanging Kitten Willow bears the botanical name Salix caprea 'Pendula'.
Shrub with hanging branches
However, there are not only mourning trees. Also some flowering shrubs form hanging crowns, for example the Wechselblättrige summer lilac (Buddleja alternifolia). At first glance, one does not see the shrub being related to the well-known butterfly lilac because it has a completely different growth habit and its flowers also look different. But he is similarly undemanding and copes with all common garden floors. In addition, the flower tufts, which appear in June, also attract many butterflies. Also, the clover (Cytisus x praecox) a related with the real broom flowering wood, forms so thin shoots that they often hang down in older shrubs. The popular Kolkwitzie (Kolkwitzia amabilis) is another example of a flowering shrub with drooping branches.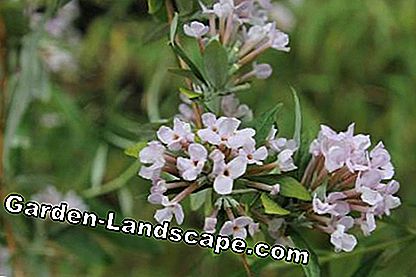 Summer lilac (Buddleja alternifolia)
Mourning trees for small gardens
Many trees with drooping crowns are not as bulging as their relatives with upright stature. In smaller gardens fits, for example, the slow-growing mountain ornamental cherry (Prunus subhirtella 'Pendula'). It is about four feet high and just as wide. The annual growth is only about 20 centimeters. There are also small graying forms from the ornamental apple, for example the variety 'Red Jade'.
Old hanging ornamental cherry (Prunus subhirtella 'Pendula')
The Black-Red Hanging Blood Beech (Fagus sylvatica 'Purpurea Pendula') needs very little space with its compact dimensions and very slow growth. Based on the wall or house, the crown can also be pulled on one side, so that it protrudes like a foliage canopy into the garden. Even a clearing of the crown is possible at any time. An insider tip among the garden-friendly cascade shrubs is the willow-leaved pear (Pyrus salicifolia). The slow-growing large shrub develops a picturesque form whose height of five meters in age almost exactly corresponds to its width. If space is available, spectacular pergolas can be drawn from several specimens, which can decisively shape a garden area.
The weeping willow is the classic among the hanging crowns
Hanging crowns for a lot of space
Some cascade trees are very large, so they are not suitable for narrow gardens. On a large area, however, they unfold their entire impressive effect. If you have enough space, the following trees are a good choice: The Weeping Willow (Salix alba 'Tristis') is growing rapidly. The tree is up to 15 meters high and just as wide. Also suitable for large gardens is the relatively inexpensive hanging birch (Betula pendula 'Tristis'), which in contrast to the true European Birch (Betula pendula 'Youngii') is four to six feet high. For less than 100 euros you get man-sized specimens. With its low-hanging shoots, it fits perfectly in the vicinity of a pond or as a solitaire on the edge of well-kept lawns.
Video Board: Nightcore The Hanging Tree.