The Content Of The Article: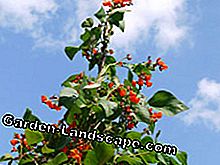 Not only climbing plants such as Clematis and Ivy would like to have something to hold on, vegetables also need trellises to hold on to the plants and climb up.
Various trellis aids
If you also want to give your vegetables such trellis aids, then you should note that not every trellis aid is suitable for every type of vegetable. We would like to introduce you to three aids for garden and greenhouse:
Spiral rods: These are especially suitable for tomatoes. The tomatoes should be screwed into the spiral rods every two to three weeks. So they get a better grip.
Rods or ropes: For the garden rods are best, if the vegetables are in the greenhouse, then a rope that is attached to the ceiling, a very good climbing aid. In any case, the curb help for cucumbers, melons and runner beans should be straight. The vegetables wind around the pole or rope and hold on independently. For this they have formed climbing organs.
Trellis: This trellis aid is especially suitable for pumpkins and climbing zucchini, which grow especially in width. They form fruits that are very heavy, the side shoots should therefore be additionally supported by tying the shoots.
Video Board: The History of Mr. Polly Audiobook by H. G. Wells | Audiobook with subtitles.