The Content Of The Article:
This garden corner is not used yet. On the left is framed by the privacy fence of the neighbor, behind borders a white painted tool shed with a covered outdoor area. The garden owners want a seat that they can use as an alternative to their classic terrace on the house, with plenty of space for guests and ample privacy.
Suggestion 1: Elegant wellness oasis
After the conversion, the garden corner looks like an apartment in the open air. The terrace surface, covered with square concrete slabs in simple gray, is slightly higher than the adjoining area, which enhances the spatial effect. To conceal the shed and neighboring fence, the two rear walls are designed with modern privacy screens made of cross-mounted wooden slats. The three trellis hornbeams look like an extension of these walls upwards: their narrow box shape is held in shape by regular cuts.
This patio with weatherproof outdoor sofa spreads outdoor living room atmosphere
The terrace is divided into two areas: in the back of the "living room", a weatherproof open-air sofa offers space for socializing. In front of the wellness area, visually separated by grasses, a garden shower and a cozy chaise longue ensure refreshment and relaxation. Down in front of the terrace area there is another seat: wooden cubes made of tree trunks and a bank integrated into the wall are grouped around a fire basket. Here, the garden owners can be lukewarm, but also end cool summer evenings in a cozy atmosphere.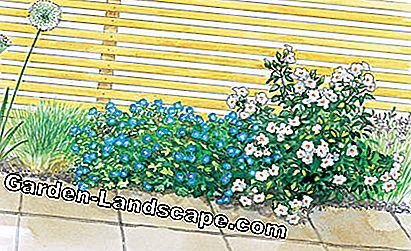 A strong contrast to the plain screen is the planting combination of giant leeks, riding grass, cranesbill, small shrub rose 'snowflake' and ashless lily
For the planting, small flower beds were set around the terrace. They still offer enough space for perennials, grasses and small shrub roses in blue and white shades. The first flowers produce grape hyacinths: The white variety 'Album' (Muscari azureum) already blooms in February and March, the light blue variety 'Peppermint' joins in April. From the end of May, the white buds of the small shrub rose 'snowflake' will open, which will continue to flourish untill autumn.
Also from May, the delicate star-shaped blossoms of the Astlose Graslilie as well as the imposing white ball-blossoms of the giant leek 'Mount Everest' appear. From June comes the strong blue of the meadow-cranesbill 'Johnson's Blue', which also fills in the gaps left by Astlose Graslilie and Zierlauch after blooming. From August to September this task takes over the blue cushion aster 'Mediterranean'. Two ornamental grasses provide green structures: The taut uprightly growing grass 'Walden-buch' grows in the bed, but also in gaps behind the chaise longue. In addition to the fireplace and next to the sofa, two large Miscanthus 'Gracillimus' provide fresh greenery.
Video Board: How To Make Great Garden Edging | Gardening | Great Home Ideas.