The Content Of The Article:
In order to keep flowering perennial bellflower (Campanula poscharskyana and Campanula portenschlagiana), it is sometimes necessary to divide it - at the latest when the plants start to harden. By this measure, the plants are on the one hand rejuvenated and on the other hand, you can refer the upholstery, which tends to spread, so in their place. The best time for sharing is in the spring.
Whether as an underplanting of roses, in rock gardens or hanging on walls - the colorful groundcover are a true flower splendor. If you plant the cushion perennials to a location where they feel comfortable, they can quickly form dense flower carpets. For this reason, if you divide your upturned bellflower, you should also plant the dabbed plant parts in a location that is permeable, nutrient-rich, humic, and sunny to partially shaded.
Step by step: sharing upholstery bellflowers
First prune the plant with a spade (left), then lift it from the ground (right)
Prune the entire plant in early spring with a spade. Do not use the device too flat so that you take as much root mass as possible. Once the root ball has been released on all sides, lift the entire plant out of the ground.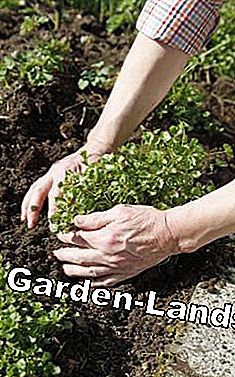 Divide the raised perennial with a spade (left). Slightly loosen the soil before planting and remove weeds (right)
Halve the spade in half and quarter the perennial. If you need a larger number of new plants, for example as a border for a bed of roses, you can cut them further with your hands or with a sharp knife. The root balls of the daughter plants should later all be at least fist-sized.
The soil at the new site will be cleared and loosened by weeds if necessary. You should also enrich the soil with some mature compost before planting. Then put the pieces back in with your hands and press the soil well.
Finally, the newly planted parts are well watered
Watering closes the cavities in the soil and the bluebells continue to grow almost without interruption. Thanks to the spreading joy of upholstery bluebells you will have a new carpet of flowers in the garden in no time.
Video Board: .