The Content Of The Article:
Even in the city you can grow vegetables and fruits yourself: "Urban Guard-ning" is the name of the concept. All you need is a small acreage, great appetite for self-made delicacies and a little creativity. Whether on the roof terrace or the balcony - small herbal and vegetable beds find a place everywhere and most species thrive in planters or boxes without problems. Depending on how you arrange the pots, you can always redesign your urban gem. For those who do not want to pursue their own ecological agriculture on the ground, raised beds or balcony boxes are the ideal solution. Horticultural knowledge is not absolutely necessary. Rather, it is about the pleasure of seeing plants grow and later reaping fresh fruits from harmless cultivation.
The trend towards urban gardening came to us from the USA a few years ago and has since found enthusiastic supporters in Germany too. In this way, everyone can help to make nature and agriculture economics in the city and to teach our children the joy of gardening in a fun way.
Snack peppers and cocktail tomatoes ripen very quickly, making them ideal for planting pots in a sunny spot. On warm days they must be well poured
Optimal use of small rooms
Whether crisp radishes and cherry-red balcony tomatoes in the box on the balcony railing, deliciously sweet strawberries in the hanging beam, a vertical bed with herbs on the wall: Who optimally uses the space in his outdoor area, can even in a limited space on a rich fruit and Vegetable harvest rejoice. Because on urban terraces and balconies is usually only room for a small seating, balcony boxes on the railing and one or two larger bucket. What does not find room at ground level, but can easily walk in the vertical - here there is enough space. And because urban gardening is extremely popular in the smallest of spaces, especially among young city dwellers, more and more suppliers have vertical planting systems in their range, for example hanging pots and plant bags or stackable pot modules. You can also build your own vertical garden cost-effectively using suitable containers.
Space-saving solutions: raised beds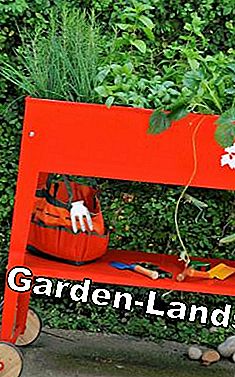 The gaudy raised bed on wheels (left) can be found on the smallest balcony. Other manufacturers offer prefabricated solutions for vertical gardening.
Above all, urban gardening means one thing: to be creative!
There are virtually no limits to creativity when choosing suitable planters: In addition to classic planters and window boxes, old cans, buckets, pallets and tetrapaks are also used. Homemade makes the kitchen garden on the balcony not only individual and colorful, it is also a cost-effective alternative to ordinary pots and pots. Some items that you normally discard can be "upcycled" and given a new purpose. For example, colorful milk and juice packaging can be used to turn planters into radishes or lettuce. All you have to do is separate the floor, hang the bags upside down and fill with soil. By opening the screw cap can then drain the excess water.
Upcycling: Old cans can easily be converted into simple planters
What is growing on the balcony?
The sheltered balcony and the sunny terrace are ideal planting places for heat-loving fruits and vegetables. Tomatoes, strawberries or peppers thrive in pots particularly well and succeed also beginners. Many nurseries now have extra balcony vegetables on offer. In order for the plants to have enough space and to be rich, you must pay attention to the right size when choosing the vessels. Of course, this also applies to self-made variants. Hanging plants are particularly suitable for the planting of a vertical garden and take up little space. Pretty classic are hanging strawberries and, of course, balcony flowers such as petunias or hanging geraniums. Many herbs are also prone to overhanging or creeping growth. Carpet pennyroyal, cumin thyme and creeping rosemary in the kitchen always have freshly harvested herbs on hand, which also spread their spicy fragrance on the balcony and terrace. If the planters are slightly larger and planted in several floors, lettuce, tomatoes and radishes will thrive in it.
Video Board: 8 Vegetables You Can Grow In Your Tiny Apartment All Year Round.