The Content Of The Article:
A 500-square-meter lawn can be easily mowed in one and a half hours with the Bosch Rotak 430 LI. However, in between an exchange of the battery is required, but the Rotak 430 LI is no problem, since two batteries are included in the package (the same Bosch Bosch Rotak 43 LI when you buy no batteries here). Thanks to the fast-charging function, after a short break of about 30 minutes, this lawn could also be handled with a rechargeable battery. The 600 square meters specified by the manufacturer were not reached in the practical test with a rechargeable battery.
Technical data Bosch Rotak 430 LI
Battery power: 36 volts
Battery capacity: 2 Ah
Weight: 12.6 kg
Catcher volume: 50 l
Cutting width: 43 cm
Cutting height: 20 to 70 mm
Shaft height adjustment: 6-fold
Bosch Rotak 430 Li
The ergonomic, upright handles of the Bosch Rotak 430 LI not only look futuristic, they also make handling easier. The height adjustment is also easy to use and the battery change is no problem. The catcher fills well, is easy to remove and re-attach. And finally, the cordless lawnmower can be easily and quickly cleaned after mowing.
Picture gallery: The Bosch Rotak 430 LI in detail
Start photo gallery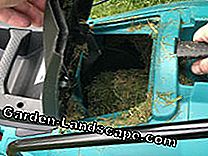 8
Show all
Bosch Rotak 430 LI
With a weight of around 12 kilograms, the Bosch Rotak 430 LI is easy to handle
The Bosch Rotak 430 LI has a 6-fold cutting height adjustment
The lithium-ion battery can be changed quickly and easily
The catcher volume of the Bosch Rotak 430 LI is 50 liters
Bosch has equipped the 430 LI with Ergoflex handles for better ergonomics
Thanks to the QuickClick handlebar system, the 430 LI can be mounted quickly
With the grass comb, the cordless lawnmower should also detect the grass on the edge
The 430 LI comes with two lithium-ion batteries and a charger


Test result: Bosch Rotak 430 LI
There were two points to criticize when testing the Bosch Rotak 430 LI: First, the Rotak occasionally gets stuck in fences or posts with its side comb. Although Bosch calls as an advantage near-edge mowing, as well as the outward blades of grass are supplied to the rotating blade, in practice, this system but mowing along a fence rather obstructive. In addition, the cordless lawnmower seemed somewhat unstable, which was not negatively noticeable during longer mowing.
Our practice test in the video
Video Board: Bosch Rotak 430 LI Akku Rasenmäher Test 2018 Laubfunktion Bambusblätter Bambus.