The Content Of The Article:
While it was still a matter of course for our parents and grandparents to plant a large vegetable patch in the garden, in the course of later years it initially became scarce to hobby gardeners who paid homage to the principle of self-sufficiency. While flowerbeds and pretty borders were still part of many hobby gardeners, vegetable gardening was kept to a minimum. However, we are currently experiencing a renaissance of the classic private vegetable garden. A healthy diet and respect for high-quality foods are also prompting more and more young people to grow at least part of the required vegetables themselves. Young parents want to show their offspring where their food actually comes from. Freshly harvesting crispy carrots from the bed, simply harvesting the salad for dinner in the vegetable patch, and enjoying the sweetcorn as a healthy snack in between - for many, having your own vegetable garden also means a great deal of quality of life.
Cultivation & Care - maintain a vegetable garden
Carrot and radish seeds are taken directly to the bed and grow quite fast. But many vegetables, which are already offered as young plants in the garden season in the trade, can be easily pulled from seed.

Disadvantage over the young plant purchase is that it takes a little longer before the plants are large and ready for harvest.
Seed bands are also practical, an ideal distance of the plants is already given here.
Attention! Young plants (especially lettuce plants) are also a feast for snails. Hoods placed over the seedlings should help. For beneficials in the garden harmless, but to fight snails but very effective, is also snail grain.
Exotics and classics in the vegetable garden
Most vegetable gardens are home to classic vegetables, such as tomatoes and potatoes. The fact that these too are available in numerous variations makes the selection huge.

Small cocktail tomatoes, large beef tomatoes, but also rare varieties, which come in contrast to conventional red tomatoes in yellow, can be grown in the garden.
When cultivating potatoes in the garden, it is no longer just the old-fashioned varieties that are preferred. Who has little space is limited mostly to special. Purple potatoes, for example, which are particularly popular among gourmets.
Practical: the raised bed as a vegetable patch
In addition to the classic bed on the ground, raised beds are also in demand as vegetable beds.

The care is easier, no annoying bending over.
Especially with bad soils makes a vegetable Hochbeet sense
Pests that threaten your harvest can be more easily fended off. Mice, for example, are prevented by a grid attached to the raised bed.
When creating a raised bed, all sorts of garden materials are used - from tree pruning to compost material - making it the ideal time to lay a raised bed.
No matter if it is a classic vegetable bed on the ground or a practical raised bed, regular care is important. In addition to watering, it is above all the loosening of the earth with a rake or the removal of weeds, which is necessary from time to time.
Cayenne pepper growing chili plants - sowing, care and harvest
Some like it hot! And that's exactly what the chilli plants were invented for. So if you want to have a certain sharpness in your kitchen, it is a good idea to grow chilies such as cayenne pepper in your own garden. How exactly that works is here.
Climbing zucchini: planting, care and ideas for zucchini-climbing aids
Climbing zucchini are practical both on the balcony and in the garden, as they occupy only a small amount of space and can therefore be used to save space. What matters in the care, we reveal here.
Pepper plants - care, cutting, wintering
Are you more into red than green smoothies? Plant balcony strawberries; best in varieties that look really nice. Care and hibernation are no more difficult than preparing a smoothie...
The best substrate for strawberries - which earth to use?

Which soil is the best substrate for the strawberries is not precise enough - it's actually about how you get to a substrate that contains enough soil for the strawberries. The article tells you why that is; as you come as a gardener to normal soil and how to prepare them without any problems for the strawberry plants.
Strawberries on the balcony - care of strawberry plants

If you do not have a garden, you do not have to do without freshly picked strawberries in summer. A sunny balcony is best for strawberry preservation. The plant substrate has been proven to be loose, humus soil.Even when planting you can add organic fertilizer. After planting must be well watered. Also in the next days the strawberries need enough water, especially when it is warm and dry.
Freeze strawberries - this is how you keep the sweet fruits

In the summer months, many garden owners enjoy a rich strawberry blessing. For immediate food usually too many of the sweet fruits ripen at once, also the delicate fruit is not long lasting. By fast freezing you extend the strawberry season by a few months.
Grow strawberries in the flower box - instructions + ideal varieties

Flourish strawberries in the flower box, the balcony turns into a decorative snack garden. With this goal in mind, important facts in the cultivation are to be considered. These instructions explain from the right planter about the perfect location to the professional care, all the important details. A list shows you ideal varieties for the balcony box.

Fertilize strawberries - the best natural fertilizers / home remedies
Fertilizing strawberries is worthwhile for reasons of taste, and manuring without the risk of negative effects on taste works best with natural fertilizers and home remedies. Organic fertilization saves time and money; It all adds up to an article that does little work and brings lots of benefits.
Strawberries are healthy: all about nutrition, vitamins and calories
Snacking and at the same time promoting health? - the consumption of strawberries makes that possible! Because the red fruits are extremely low in calories despite their sweetness and also contain numerous vitamins and minerals. The strawberries are considered true vitamin bombs whose consumption has a positive effect on health.
To multiply strawberries - to share seeds / offshoot - how it works!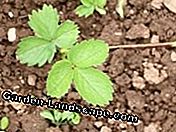 It is child's play to multiply strawberries, but it does not only delight children, but also brings them real strawberry flavor into the household. You only need to propagate the right varieties, the article will tell you how it works.
Grow hanging strawberries - 16 delicious varieties, care and wintering
The strawberry is, strictly speaking, an amazing structure: strawberries naturally do not form tendrils and have not been able to "breed" tendrils. In the article you will learn how the "trade hanging strawberry" came into being, why other strawberries also grow in the hanging beam and how you handle all these strawberries.
Is the strawberry a nut or fruit?
Cultivate monthly strawberries - care, increase and overwinter
The so-called "strawberries" in the garden are as refined as they are delicious alternatives to the traditional strawberries. They are extremely productive, perennial and do not require much care. They also make a lot of joy. What you should pay attention to when cultivating monthly strawberries, how to care for them, multiply and overwinter, is here.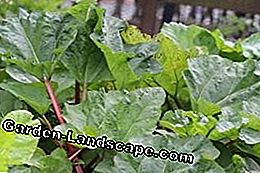 Rhubarb Harvest - until when is harvest time?
Not everyone likes rhubarb. Especially the feeling on the teeth, which one often has after eating, is not very popular. The teeth feel dull, as if there were a coating on them. This comes from the oxalic acid contained in rhubarb. Depending on when the rhubarb is harvested, more or less of it is included. Oxalic acid deprives the body of important minerals. Therefore, there are some things to consider when harvesting and preparing the vegetables.
Pests on strawberries - lice, beetles and worms
If you plant strawberries, you should always be prepared for animal guests who would like to harvest their strawberries. These strawberry pests become a problem if they are not noticed in time and prevented from mass propagation.
When do you plant strawberries? Information about the best planting time
Hardly any other fruit is as popular as the strawberry. Compared to the most watery fruits from the trade, home grown strawberries are fuller and more aromatic. The variety among the varieties is huge, and the strawberry variety also plays a not to be underestimated role in the planting time.
White strawberries, pineapple strawberry - cultivation and care tips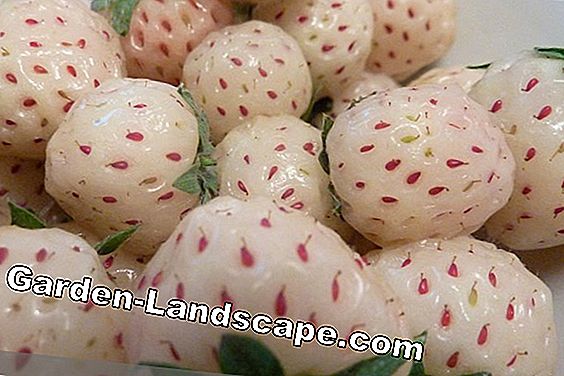 White strawberries are all the rage - but the people who taste them are rarely enthusiastic about the unusual fruits. In the article, you will learn why this is so and how you can grow your own to really delicious pineapple strawberries.

Old & Historical Fruits and Vegetables
Harvest artichoke plants - when are they ready for harvest?
The artichoke is not only in the foreground in the vegetable alphabet, but also applies due to its taste and health properties as "royal vegetables". It does not eat the fruits of the perennial, but their not yet flowered inflorescences. However, it is not easy to find the right time to harvest.
Barbarakraut, winter cress - cultivation and care
Broccoli cultivation - sowing, care and plants
The broccoli is also known in this country under the name asparagus or sprout plant. As a fast-growing cabbage, it quickly found its way into many home gardens.Violet and white broccoli are numerous small inflorescences of 3-5 cm in diameter, sitting on fleshy stems. If one cuts off mature buds every few days, new flower heads grow over a period of usually more than 2 months. The cultivation of this vegetable is very rewarding, as it provides good yields even in the smallest home garden.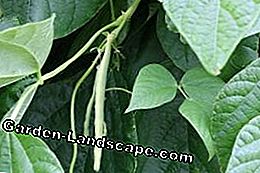 Bush bean cultivation - sowing and care
Bush beans are one of the most popular vegetables. They are easy to pull and can be harvested after just eight weeks. Bush beans have short, sturdy stems and, in contrast to the pole beans, hardly require any support, as they only reach a height of about 30 to 40 cm. These rather short-seeded bean plants can also be grown well in window boxes or in the cold frame. Bush beans are grown mainly for their pods cooked as vegetables.
Grow chicory yourself - sowing and care
Iceberg salad cultivation - sowing, planting and care
The iceberg lettuce is a further breeded lettuce. Iceberg lettuce is very rich in vitamins and therefore should not be missed in any diet if a salad is served with the main course. The leaves are crisp and remain fresh for a long time after preparation. Tastes great with many different marinades, but also in a marinade with balsamic vinegar.
Endive - cultivation and care of endive salad
Of the endives, there are two varieties that can be distinguished from each other by their appearance. The smooth endive bears the name Escariol. The taste of the two is quite different. The smooth endive tastes a bit tart, while the curly endive tastes more like a salad. The endive can be cultivated from March (warm pre-culture recommended!) In our latitudes, their harvest can be done until November. Light frost is generally well tolerated and does not diminish the quality of the endive.
Peas, garden pea cultivation - sowing and care
Vitamin rich peas are doubly useful. Fresh peas from our own harvest are unsurpassed in taste and at the same time contribute to improving the quality of the soil. Do not think that growing peas in the garden is not worthwhile. Anyone who has ever tasted it will reapply every year. The culture is relatively light, and the nitrogen-collecting nodule bacteria that form at the roots fertilize the soil.
Growing peanuts yourself - care and cultivation
Peanut plants are relatively easy to grow from unroasted peanuts. Unroasted peanuts can be found in birdseed mixes or specialty fruit and vegetable shops. Harvested in the fall. As soon as the leaves of the plant turn yellowish, the peanuts are ripe. The plant with its root is removed from the soil and the nuts are removed. The peanut is a one-year-old plant and can be disposed of after harvesting. Now a new plant has to be pulled.
1234… 67›"
subcategories
Garden vegetables - processing and recipes
Vegetables - vegetables and varieties
Harvest and store vegetables
Create a vegetable garden - design
Cultivate vegetable garden
Vegetables - vegetables for the home garden
Goji berries, Gochibeere - Gochi
Special: strawberries, strawberry guidebook
Special: potatoes, potato guidebook
Special: Paprika, Chili & Co - Cultivation & Use
Special: Rhubarb a popular vegetable
Special: Tomatoes, plants, grooming, recipes
Video Board: Vegetable Garden Tour & Tips 7/19/2018: Mature Tomatoes & Peppers, Crops to Plant Now.