The Content Of The Article:
When planning you have to pay attention to many things. If you only want to provide your own vegetables, you need a lot of space. Creating paths between the beds makes sense. A large rainwater barrel near the bed also. In the vegetable garden should be poured only with water that is warmed by the sun. Planning should begin with a soil survey so that you know the exact nature of the soil. The own vegetables can also be preserved by freezing or boiling. So you have a lot in stock in winter. If you want to work comfortably and do not need a large area, you can also create raised beds.
The vegetable garden needs a good care, which already begins with the creation, because those who want to achieve income, must not renounce good old recipes such as cow dung. Which location is particularly suitable and how to make a kitchen garden well, you will find here.
Also more accurate about cold frames, raised beds, manure beds and the general layout of a vegetable garden.
In times when vegetables are getting more and more expensive and you hear more and more about harmful substances like pesticides in vegetables, growing your own vegetables is a safe matter. Because you know exactly what's inside. If you have a large garden and enough time, you can grow almost all your vegetable needs. A greenhouse is a good thing. It can be used for breeding, for young plants, for salads that are often the victims of snails and other sensitive plants.
If you do not have enough space, you must choose your plants wisely. It is best to abstain from vegetables with a long culture period, such that requires a lot of space or is always offered cheaply in the trade.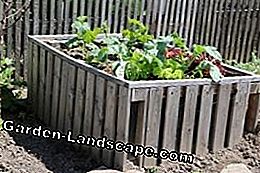 Plant a raised bed - the best plants for the first year
Whether bricked, timbered or braided - when the raised bed is finished and filled with substrate, the question arises as to the optimal planting. Find out what it takes to perfectly plant a raised bed here. These are the best plants for the 1st year.
Choosing the right film for raised beds
Raised beds are not only a big trend, they can greatly facilitate the cultivation of fresh vegetables and aromatic herbs. With flexible choice of location, the design options are almost inexhaustible. Raised beds can be made of different materials that suffer to varying degrees from the humidity of the earth. That requires good protection.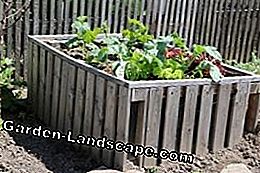 How do I create a raised bed? - Instructions for filling the layers
As a senior, work happily through the garden and harvest abundant flowerbeds - without straining your back: probably every hobby gardener dreams of it. With a raised bed this dream can come true. But in order for the cultivation of vegetables and flowers to function optimally with the aid of this modern construction, the raised bed must be laid out cleverly and, above all, optimally filled.
Build and create a raised bed yourself - instructions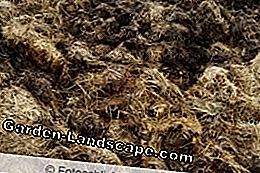 A manure bed scores with natural warmth, which can be used excellently for the cultivation and cultivation of commercial and ornamental plants. Compared to the cold box, the construction of a warm bed requires a little more work, which, of course, proves to be worthwhile. This manual explains in practice how to create and plant a bed of mist.

Instructions: Create a vegetable patch properly

More and more people want to make sure the vegetables they eat are really healthy and fresh. It makes sense to plant a vegetable patch even in the garden, because vegetables from your own garden are something very special. For the cultivation to succeed, a few skills and preparations are necessary.

Create cold frame yourself and instructions for planting

Creating a cold frame yourself has many advantages: An earlier harvest is in the offing; the best window seats in the living room are spared from sandy boxes and pots; the plantlets in the cold frame are already perfectly attuned to the outside temperatures.

Raised bed of stones, gabions - instructions

High beds made of stones are not only practical and bring higher yields - they are laid out correctly and a constant eye-catcher in the garden. In order to keep the self-construction of natural stone or gabions permanently, however, a lot of attention must be paid to the planning.

Raised bed as a kit

Raised beds are a nice thing. They protect the back and if properly layered, they generate a lot of heat and nutrients and provide plants an ideal place to grow and thrive. You can build raised beds yourself, buy them completely or as a kit. Find out all about kits.

Pathways in the vegetable garden - wood, bark mulch or concrete?

Which path is chosen for the vegetable garden depends on the overall concept of the garden.For natural gardens and the cottage garden wood or bark mulch are ideal as material for the paths, because they fit naturally. From a practical point of view, there is a lot to be said for concrete as a roadway, it is not only extremely easy to clean, but also easy to drive on.
Video Board: How to Plan a Vegetable Garden: Design Your Best Garden Layout.