The Content Of The Article:
Vegetables that are consumed fresh are harvested immediately before preparation. Vegetables that you would like to store for a few days or longer can be harvested according to their maturity. Not only herbs, also vegetables can be conserved. Some species can be preserved by freezing, other vegetable varieties should rather einkochen. Good stock vegetables are carrots, potatoes, beans and onions. If you sowed or planted lettuce or radishes, you will have them fresh for the whole summer. Very important for storage: never store fruits and vegetables together.
Very important during the harvest: harvest only in the mornings and in dry weather. Otherwise, damp vegetables will rot quickly
Vegetables such as lettuce and radishes are usually prepared fresh and rarely stored after harvest. These include salsify, carrots and the radish harvested in late autumn. Information on harvesting and storing vegetables here.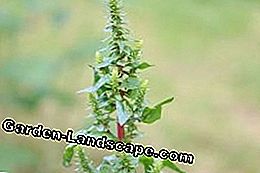 Rhubarb blooms - can you still eat it now? Information about the harvest
Once the rhubarb forms the first flowers, ask many hobby gardeners, if they can still harvest this. For there is a persistent rumor that the rhubarb from the flower is particularly toxic.
Harvest zucchini correctly - Harvest time + Can you cut off the leaves?
Zucchini (Cucurbita pepo) are very grateful garden plants: Only one to two specimens provide a four-member family tirelessly throughout the summer with fresh, healthy fruits. The harvest time can be extended with some tricks.
Harvest onions - when is the best time to harvest onions?
The harvest of onions is a little science in itself. But who has managed to bring this indispensable leek in his garden to maturity, which will easily master this last step. A few tips and tips about the onion harvest can be helpful here.

Harvest beetroot - when is it ripe? Information about the best harvest time
Beetroot is an invitation to eat fresh or enrich the wintry menu with fresh vitamins as a stock vegetable. The varied uses require different maturity and harvest times. This guidebook explains when the beet is ripe and provides you with all the information you need for a precise, expert harvest.

Store onions - keep onions

Onions from their garden last up to half a year or even longer if stored properly. But also the onions sold in small nets in the trade keep their taste and their freshness all the better if kept cool and dark.

Fruit storage in autumn & winter

Harvested fruit from the garden can also be stored, so you can also enjoy the delicious fruit in the winter time. However, it is important that some aspects are taken into account so that the fruit is also durable.

Carrots - winter storage

The carrots have several ways to preserve them for the winter. They can be chopped into jars or frozen, or kept in a rent as a whole.
Video Board: How to Harvest and Store Onions.