The Content Of The Article:
Hedges, wooden fences and Co. were modern screening ideas for the garden a few years ago. Today quite different variants are trend. Keyword glass, perforated sheet and gabions.
Today, a garden is much more than just a place where fruit and vegetables are grown. At the present time, a garden is much more used for relaxation and recreation. After the stressful work, there is nothing better than sitting in the midst of flowers, putting your feet up and enjoying the nice weather. Be it on the porch swing, by the pool or on the garden lounger.
A garden is nowadays almost a kind of living room. Here you can sit with friends and family and celebrate garden parties, romp with the kids or just take a break from everyday life. If you have a garden, you can really be happy. There is only a problem when the garden is facing the street and everyone can watch one. The same applies to neighbors who like to peer over the garden fence. Even that can be quite annoying with time. After all, the garden should be a retreat, where you can do whatever you want, and no presentation plate.
Those who are fed up with curious looks can put an end to the whole thing quickly. The only thing you need to do is place one or more privacy screens in the garden. So you are not only protected from the prying eyes, you also automatically create a sunscreen. So you kill two birds with one stone! Creating hedges, however, would take too long until they are big enough. And also wooden fences, high garden walls and sight or sun protection elements made of willow are no longer really modern. If you want to follow the current trend, you prefer to use visual protection elements made of glass, gabions or perforated metal.
3 modern vision & sun protection ideas for the garden
❶ View and sun protection made of perforated metal sheet: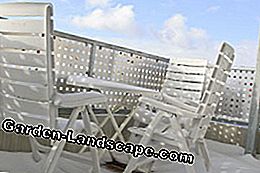 To integrate perforated sheets in the garden, is currently in vogue. At first you saw more and more garbage cans under a panel made of perforated sheets disappear (see example on selbst.de) - and that was already a visual highlight. But perforated sheets are often used in a different way in the home and yard design. For example, as a visual and sun protection in the garden and at the house. Yes, even at the house, the sheets are used more and more often. Just take a look at the Kolding Campus of the University of Southern Denmark. In cooperation with the architect Henning Larsen and the RMIG, a sunshade made of perforated aluminum sheets was created, whose facade covers an area of ​​4,500 m² (Source: architektur-welt.de). The facade is now not only an aesthetic eye-catcher, but also causes energy savings.
What looks great on the house, of course, looks just as good in the garden. The good: You can determine the design of the privacy and sun protection yourself, because there are perforated plates with holes, square holes and sheets with a special pattern. Here should be something for every taste.
❷ Glass sight and sun protection:
Visual and sun protection elements made of satined glass or with completely printed elements are also very popular at the moment. They look modern and somehow noble too (see some examples on deavita.com). Accordingly, you will give your garden something very special. You do not have to be afraid that the glass elements break quickly. They are usually made of impact-resistant safety glass and:
easy care
weatherproof
durable
easy to assemble
Visible and sun protection elements made of glass are therefore perfect for anyone who wants to rely on an exclusive look, modern design and low maintenance.
❸ Visor & Sun Protection from Gabion:
In recent years, we have often seen gabions in parks or gardens. However, then often only as a garden fence, which moves around the entire property. Gabions can also be directly in the garden and be a real eye-catcher. At least for you as a garden owner, because your neighbors or the curious passers-by will not get much thanks to the privacy screens. Properly planned, you can use it to protect areas from the sun and prying eyes.
The good news: Gabions can be filled in a variety of ways. For example, with natural stones, bricks, rubble or with glass chunks. The latter variant looks particularly beautiful, because the sun shines on it, then the stones shine properly. You can also illuminate the stones in the evening. The gabion thus transforms in the dark from a normal view and sun protection to an absolute highlight in the garden. Take a look at the examples on gabionenlicht.de and see for yourself how great illuminated gabions can look like.
Video Board: 22 Home's Curb Appeal Ideas "REMAKE".