The Content Of The Article:
Anyone looking for a reasonably priced and space-saving privacy screen for their garden will sooner or later end up cutting the hedge, because hedge plants are more durable than wood screens and cheaper than walls. The only drawbacks: you have to get the plants into shape once or twice a year and, depending on the size of the plants, they need a few years of patience until the privacy is perfect.
The choice of suitable hedge plants
To find the right hedge plants, you first need to clarify a few important questions: Do you want a fast-growing plant that needs to be cut twice a year? Or rather a more expensive hedge, which looks good with one cut per year, but takes a few years longer for the desired hedge height? Do you have a problematic soil on which only undemanding trees grow? Should the hedge be opaque in winter, or should it lose its leaves in autumn?
In order to make your decision easier, we present you in the following picture gallery the most important hedge plants with all advantages and disadvantages.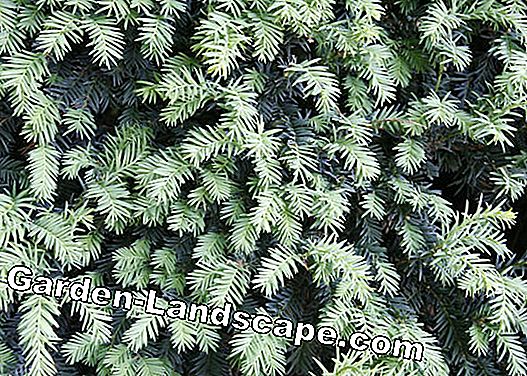 Start photo gallery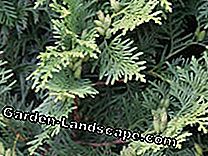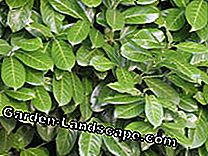 12
Show all
The best hedge plants
The yew (Taxus baccata) is one of the longest-lived hedge plants and can easily be over 1000 years old with good care. It is suitable for one to four meter high hedges and grows on all not too dry soils. The native coniferous wood is evergreen, thrives in sun and shade and also copes with heavily rooted soil under larger trees. In addition, it is extremely cut tolerant and drives even after cutbacks to the trunk again.
Since yew trees grow very slowly, you only have to cut them once a year, but they take a relatively long time to give them good privacy. All plant parts including the hard fruit stone are very poisonous. The red seed coat, however, contains no toxins. In sunny places, yews occasionally suffer frost damage. The best type of hare besides the wild species is the fresh-green, upright-growing hybrid 'Hicksii' (Taxus x media)
The Western Tree of Life (Thuja occidentalis) is suitable for hedges from two to four meters high in sunny locations on humus rich, moderately moist soils. The evergreen tree is extremely hardy and windproof and forms a very dense screen. Despite his good hedge characteristics, he is not everyone's thing: First, he has the image of being a cemetery plant, on the other hand, his scale-like foliage colors in frosty brownish-green.
The low-priced plants grow fast and reach eye level in a few years. However, they should be cut twice a year so that they branch well and form a uniform, dense wall. Plant trees only on sufficiently moist, well-ventilated soils. In dryness or waterlogging individual plants are easily attacked by fungal diseases and then usually die off completely.
After vigorous pruning, trees will not turn green again, so it is important to maintain the cutting rhythm. There is a large variety of varieties with different growth forms, green and yellow tones. Among the best types of horseradish is the fine-leaved and relatively weak-growing variety 'emerald'. It also keeps its green foliage color in winter
The cypress (Chamaecyparis lawsoniana) has a similar foliage as the tree of life. Their leaves are somewhat filigree and the branches grow upright. It is suitable for hedges from two to four meters high and grows best in sunny to partially shaded locations on moderately moist soils.
Of the false cypress, there is a large variety of varieties in yellow, blue and green hues. It is a bit more shadow-tolerant than the tree of life, but otherwise has similar characteristics. False cypresses also tolerate no strong cutbacks and are also wind and frost sensitive than trees of life. For most varieties, one cuts out every year. One of the best hedge varieties is the blue-green 'Columnaris'
The cherry laurel (Prunus laurocerasus) is an evergreen shrub and belongs to the same botanical genus as the cherries and plums. Depending on the variety, it is suitable for one to two meter high hedges in the sun and shade. Cherry laurel has no special soil requirements: it tolerates dryness and grows in the root network of taller trees.
With its rough, shiny leaves, a cherry orchard hedge is perfect for Mediterranean gardens. The hedges are relatively wide and should be cut at least once a year with a hand-held hedge trimmer, as the cutter bar of an electric hedge trimmer severely damages the leaves. On clear, cold winter days frost threatens in full sun locations, which grow out quickly.Only certain, upright varieties such as 'Herbergii' or for mild climates 'Rotundifolia' are suitable as a screen.
The evergreen holly (Ilex aquifolia) is a native forest plant. It is suitable for one to two meter high hedges and grows best in partially shaded, somewhat protected locations on loose, humus rich soils. For very cold regions, it is not ideal, especially as the variegated varieties are sensitive to frost.
Since all Ilex varieties grow slowly, they are relatively expensive. For this they get by with a cut per year, as in the cherry laurel best with the hand hedge trimmer. Especially with the heavily spined varieties like 'Alaska' the cut is not fun. In addition to the decorative foliage, the bright red or yellow berries of the female plants are an eye-catcher. A disadvantage is that most holly varieties are often attacked by the Ilex miner fly. So far, it can not be effectively combated in the home garden. The best hedge varieties are frost hardy selections like 'Siberia' or 'Heckenstar' (Ilex x meserveae). The most pleasant to look after are varieties with few leaflets, such as' I. C. van Tol.
The privet (Ligustrum vulgare) is popularly referred to as Rainweide. Reason: The summer to wintergreen, native shrub is like the pasture extremely robust and regenerative. It is suitable for one to three meter high hedges and is very adaptable to location and soil type.
Privet grows very fast and should therefore be cut twice a year. The plants are reasonably priced and can be easily propagated by means of woodpile. Neglected hedges can also be reshaped in an emergency with a radical pruning. Privet hedges are very popular with birds as a nesting site and the black, poisonous berries are an important food source for the feathered friends. The disadvantages of a privet hedge are the tendency to stolon and the dense root system, which can make life difficult for neighboring plants. In severe winters, the privet loses its leaves and then provides no privacy. The variety 'Atrovirens' and the Oval-leaved Privet (Ligustrum ovalifolium) keep the foliage slightly better in winter
The boxwood (Buxus sempervirens) is probably the most popular hedge plant of garden designers. He was already in the Middle Ages in numerous castle gardens as a hedge or enclosure to find. Boxwood is especially suitable for low hedges up to one meter in height. For a two-meter-high screen you need patience for a few years. The soil should be rich in humus and nutrients, permeable and not too dry. The location is sunny to shady garden areas.
Boxwood grows slowly and becomes very dense over the years. He usually comes out with a pruning per year. The plants are as durable as the yew and also very cut compatible. They drift after strong pruning even from arm-thick branches again. For some years, unfortunately, there are increasingly problems with a fungal disease (Cylindrocladium). It has already caused great damage in many historic parks and is very difficult to combat. The boxwood is native to Southwest Germany in places and its flowers are a valuable bee pasture. For low borders, the varieties 'Suffruticosa' and 'Blue Heinz' are good, for higher hedges it is best to plant the wild species Buxus sempervirens
The beech (Fagus sylvatica) and the red-leaved beech (Fagus sylvativa var. Purpurea) are very long-lived hedge plants for sunny to shady garden areas and nutrient-rich, not too dry soils. They are suitable for hedgerow heights of one and a half to four meters and beyond.
Beech trees grow quickly and are very shadow friendly. That's why they can be used to form relatively narrow, high hedges. They should be brought into shape twice a year and, if necessary, can withstand strong cuts right down to the stem. The leaves have a shiny surface and show a yellow-orange color in autumn. Since the leaves adhere to the branches for a long time, the summer-green beech trees still provide acceptable privacy even in winter. The roots of the beeches are very sensitive: they tolerate neither soil accumulation nor waterlogging
The hornbeam (Carpinus betulus), also called white beech, because of its light wood, is not a true beech, but belongs to the family of birch trees. She is much sturdier and less demanding than her namesake and is used for one and a half to four meter high hedges. It grows in the sun and shade and tolerates temporarily even dryness and waterlogging.
Like the beech, the fast-growing hornbeam should be kept in shape twice a year. It is extremely cut-firm and her summer-green foliage gives a valuable humus. It turns pale ocher yellow in autumn and falls off sooner than that of the beech, which is why a hornbeam hedge can become quite transparent in winter. Hornbeams are relatively prone to powdery mildew and not as long-lived as beechnuts. Special hedge varieties do not exist
The Field Maple (Acer campestre) is a beautiful hedge plant for semi-natural gardens.The native tree prefers sunny to slightly shaded locations and has no special soil requirements. However, he does not tolerate very wet and acidic soils. You can use it for two to four meter high hedges.
The cheap field maple grows very fast and should be cut twice a year. He also tolerates strong cuts in the so-called old wood. Dryness and heat can not affect the robust tree, nor can strong winds. In autumn, the deciduous foliage turns golden yellow and soon falls off, which is why the field maple is not suitable as a year-round privacy. An esthetic impairment is the powdery mildew, a fungal disease for which the field maple is very vulnerable. Because of the ragged habit, a hedge made of field maple is always a bit wild and unkempt, even with two cuts a year. But that's why birds like to use it as a nesting site
Thunberg's Barberry (c) is a deciduous Barberry species that is often planted as a hedge. It grows relatively weak and is suitable for one to one and a half meters high hedges. Ideal is a sunny location with humus rich, not too dry ground.
With its long pointed thorns, this barberry species is the first choice if you want to protect your property from unwanted guests such as dogs and cats from the neighborhood. As a visual screen, however, it is only partially suitable because of its low height. Although it does not grow very fast, you should cut these barberry twice a year. Otherwise, there is a risk that it will become too wide or shallow. Because all barberries are very cut tolerant, you can bring them back into shape with a radical rejuvenation cut. The scarlet autumn leaves are a magnificent sight. The same applies to the coral, edible fruits, which stick to the branches until winter and are an important bird food. In addition to the green-leaved wild species, the variety 'Atropurpurea' (photo) is also a red-leaved variety
Brambles (Photinia x fraseri) are evergreen hedge plants that are enjoying increasing popularity. Suitable for hedges are the variegated leaves 'Pink Marble' (photo) and 'Red Robin' (P. x fraseri) with a striking red foliage in spring.
The broad-bushy shrubs are evergreen and drought tolerant and heat tolerant. In addition, they only make low demands on the ground and are, for example, very well suited as a privacy screen for Mediterranean gardens. Their biggest drawback is that glossy medlars are somewhat frost-sensitive and therefore only recommended for winter-mild regions. In addition, they are slightly more expensive than the visually similar cherry laurel and are prone to fire blight, an incurable, notifiable bacterial infection. The annual growth is 20 to 30 centimeters, per meter two to three plants (size 60 to 80 centimeters) are required and the optimal hedgerow height is one to two meters

Video: How to plant your hedges correctly
Planting hedges: the right time
If you want to plant a hedge, then you should be active in the early fall. The hedge plants then rooted in favorable weather until the beginning of the winter and grow next year faster than a hedge, which is set only in the spring. However, do not set evergreen, slightly frost-sensitive woody plants such as the cherry laurel, the yew or the glossy medlar too late in the year - they can be severely damaged in winter if they are not yet fully grown. Here is the spring the best planting date. You can still plant hedge plants with potted bales in the summer if you water the shrubs well in the weeks after dryness.
Video Board: Planting an Instant Hedge.