The Content Of The Article:
As another variant, there is carpet or lawn carpet. Even such a balcony surface take many people. He does not have such cold feet and you might even be able to look after your lingerie with socks. However, it has the disadvantage that it can become very wet and gummy very quickly, if it rains for several days. The floor must then be renewed quickly, so that no mold forms and then it costs a lot of effort and money.
If you want to spend a bit more on the balcony surface, you can try wood like Bankirai or Bangkirai. He really makes a good impression and does not necessarily make the cold feet. The disadvantage of this is, however, that water runs in the rain in the grooves and then you may get the mold under the wood. Also there is then a reconstruction in demand and costs even more, because the wood variant is not the cheapest anyway.
Advantages and disadvantages
Of course you can also lay tiles. A very good thing. They are placed directly on the concrete. This has the advantage that no water can flow in grooves. This floor is also very easy to clean. He will certainly last longer than the other things.
After this overview here the different possibilities with their advantages and disadvantages:

Concrete is cheap and durable on intact ground, but in the traditional version visually not very appealing and also foot cold.

But you do not have to stick to the traditional version, today there are screed floors in enchanting colors and patterns, which is decorative and extremely durable.

An attractive alternative is cast resin, which today can not only be poured into a uniformly gray floor, you could even cast patterns of several colors or a kind of mosaic of resin on your balcony floor.

Cast resin with patterns or colored bedding, however, is not cheap, and also is recommended to DIY enthusiasts to have the application carried out by a professional, which costs again.

Or how about a stone carpet on the balcony? Not without effort to lay, but a exceptionally interesting new material with unusual and exciting look.

Now it is the turn of the tiles, where the purchase of the correct (frost-proof) tiles and then a professional installation is the first thing that matters. If both are correct, the result will last a long time.

If you buy normal (inexpensive) frost-resistant tiles, but they are very smooth and slippery in moisture, tiles with non-slip surface structure then bring back considerable additional costs.

Timber flooring will also take some time if you choose the right wood with the right durability class that Bankirai has, for example.

However, Bankirai is only a good choice if you can prove yourself by certifying that the wood was not recovered under environmentally damaging conditions.

As already indicated above, the right substructure is very important for a wooden surface: you must ensure that nowhere does waterlogging occur, which requires knowledge or specialists.

Finally, it's time for a lawn carpet, a convenient solution for those who want to finish laying the balcony very quickly.

A disadvantage of the laying of lawn carpet is, of course, that this will not last forever or after a while simply dingy acts.

But that does not really matter with a small balcony, the few euros, which costs a new lawn carpet, has really left everyone.
Not a very rare case: Before the new surface renovation is required
It has been repeatedly mentioned above that the first requirement for a durable balcony covering is the proper condition of the balcony floor. Whenever you need a new balcony surface because your old surface has suffered from permanent moisture, you should first check whether this permanent moisture comes from below. For older buildings, the balcony structure often has damage, which then require rehabilitation measures before a new balcony flooring can be laid.

Which balcony flooring is optimal?
First, you have to say that there is not the right floor covering for a balcony. It is always a matter of taste, purse and local conditions.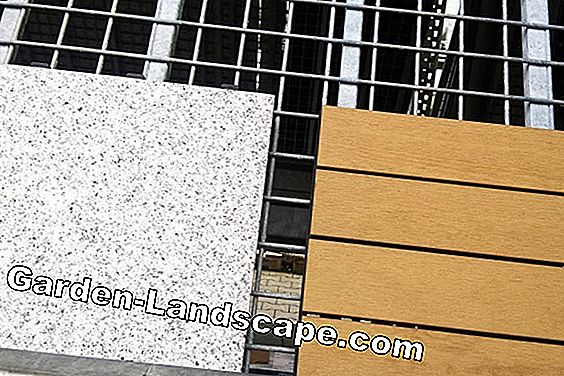 If it is a balcony in a flat, you can not just make such structural changes, such as the laying of tiles or wooden planks. Hereby you have to get the agreement of the landlord and if this does not agree, then you can only resort to an artificial turf, which is simply placed on the floor of the balcony.
However, such an artificial turf is also quite practical, because it is not slippery, not too hot when the sun is shining on it and if you choose one with a drainage, then it is not too wet even after a rainstorm.In addition, you can lay it wonderfully alone, that is also quite fast, and you can simply vacuum it with a vacuum cleaner, if it is dirty.
However, the Kunstrasten is usually only available in a typical lawn green, sometimes in black. A southern feel, as with natural stone tiles does not occur.
Natural stone tiles are very popular not only for terraces, but also for balconies, but this is only given if the static can withstand the weight. Therefore, you should get together in advance with a structural engineer and determine whether this type of flooring is possible.
However, wood floors are also very popular, with mostly tropical woods being used. For this purpose, a basic structure must first be constructed so that the rainwater can drain through the wooden planks. It is also important to make sure that there is an outlet down, because if the water comes to a halt between the wood paneling and the concrete floor of the balcony, the substructure breaks down very quickly and then it is also quick turn the screed.
If a reasonable drain is given, then you have a long time joy on a wood covering. Most tropical woods are a purchase for life because their lifespan is infinitely long. However, one should also make sure that the wood comes from a controlled mining and not from the depletion. Unfortunately, more and more tropical wood is illegally cut down, which then also reaches our DIY stores.
Whether a wood comes from a controlled degradation, can be recognized by certificates. Not only do tropical woods have the advantage of an incredibly long lifespan, they also bring a certain holiday feeling to the balcony. In addition, they do not necessarily have to be treated with wood preservatives.
Another alternative is the glass bottom, which regularly consists of TVG and VSG. The glass plates are glued and are about four inches thick. The downside is that the soil is more easily scratched and becomes very slippery when wet. However, there are also special glass shelves with anti-slip screen printing. The cleaning benefit is not lost.
Another balcony flooring is the grate surface. The hot-dip galvanized steel grid is also four inches thick and extremely easy to clean. They are secured with stainless steel screws. One last recommendable bellows is the aluminum checker plate. The sheets are welded together and also secured with stainless steel screws.
The advantage of the aluminum variant is that many other balcony coverings such as lawn carpets or tiles can be laid on this floor covering, so that variations are possible over the years.
Video Board: How to Lay Vinyl Flooring | DIY Projects.