The Content Of The Article:
In order to offer wild bees a welcome nesting site, it is easy to build a wild bee house yourself. These nesting aids can be erected on your own with a minimum of time and expense. There are only a few limits to imagination and creativity, but there are some important factors to consider when constructing. Above all, the right choice of materials and adequate protection against rain are crucial.
Nest behavior of wild bees
Wild bees are not limited to a concrete solution when choosing their nesting site, but are very versatile in choosing a suitable home. Depending on the circumstances and the size of the bee colony, the nest can vary greatly. For the most part, wild bees nest in the ground, where insects dig tunnels into the ground. Dry and sunny places are preferred as locations, these factors are also to be considered in the construction of a wild bee house. In addition, the insects also like to settle on vertical walls, which offer them a good protection against predators. When the people are smaller, wild bees often nibble their nests into dead trees. Also very common are wild bee species inhabiting the cavities, these settle preferentially in artificial wild bee houses.

Grow their brood cells mainly in underground passages
Are also satisfied with above-ground habitats
Alternatively, wild bees look for passageways in demolition edges and cliffs
Others nest in the cavities of wall columns
Above ground, hollow trees are often preferred
Deadwood and the pith of woody stems also provide habitats
Some species build freestanding resin nests
It is also possible to build a nest of mineral mortar
material selection
Very important are permeable materials, as otherwise formed in the wild bee spawn in the tubes mushrooms, if the water vapor can not escape. Especially glass tubes are fatal, which are used to observe the nesting activities inside. These unfit nesting aids often turn into a death trap for the offspring due to the fungal infestation. If wood is to serve as a material, then this may not be too fresh. If the holes are set too tight, then unwanted cracks, which are avoided by the wild bees. In addition, drilling in the end grain of tree sheaths promotes cracking. Softwoods are not suitable because they are only slightly durable and their wood fibers splinter quickly. Also unsuitable as nesting aid are perforated and hollow bricks, as their holes are either square or rhombic.

Nesting aids should be based on nature
Select breathable materials
Use only well seasoned wood
Allow sufficient space for the drill holes
Of benefit are holes in the longitudinal wood
Only splinter-free Nistgänge be populated
Pay attention to clean and smooth cut edges
Wild bees prefer the round holes of the Strandfalzziegel
Advantageous are free-standing and vertical structures
Useful are also ausgekommen Vogelnistkästen
Course selection
Ideally, the nesting aids should be provided with a stable hanger to protect them from wind and weather. As a result, they are better protected against attacks by predators. So that the front panels and inserts do not distort due to moisture penetrating from the outside and thus become stuck, a dry place is very important. Also important is the spatial orientation of the site, north-oriented nesting aids are not happy to be populated. Neither are shadowed or wind-dangling nests. Most wild bee hibernate in their nest and therefore need sheltered from extreme minus degrees.

Hang nesting aids either at the chosen place or place them
Permanently dry site, well protected from driving rain
Ideal is freestanding wall, oriented from southeast to southwest
As sunny as possible, without disturbing drafts
Depending on the construction, it is also easy to place on the window sill
Nesting aids generally stay out all year round
Additionally protect against strong forest during the winter months
Curtain mat or plywood panel
Pay close attention to allow air circulation
Protection helps both against extreme weather conditions as well as against birds
hardwoods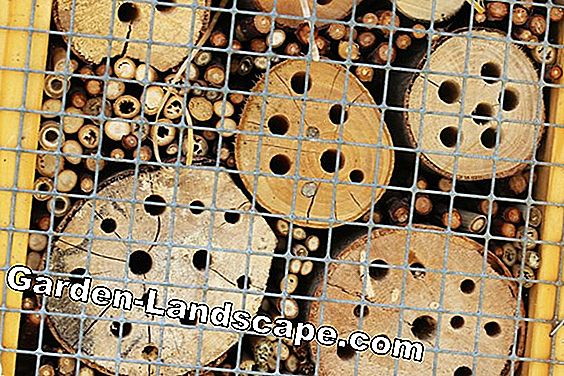 Excellent for the wild bee house are blocks of well-seasoned hardwood, these are guaranteed colonized by the insects. In addition, this wood does not tend to crack, even if the distance between the holes is too narrow. Furthermore, make sure that the wood block is not completely pierced. In order to offer a home to as many wild bee colonies as possible, the diameter of the holes is crucial.Softwoods are completely unsuitable because the escaping resin sticks to the filigree bee wings.

Ideal are the types of beech, oak and ash
Entirely deconstruct pieces of wood
Provided with holes in the longitudinal timber, where previously the bark was
Diameter of the nests should be 2-10 mm
Distance should be 2.5-3 times the diameter of the drills
Pay attention to sharp and high quality wood drills
In this way, nests become smooth and shatterproof
The deeper the holes, the better
Drill holes should vary in diameter
Reed and bamboo tubes
Quite simple in the preparation are nesting aids made of reed and bamboo tubes. In this way, a lot of living space can be accommodated in a small space and offered to the wild bees. The materials for this are available in a conventional hardware store. If this nesting aid is hung on the wall with some distance, then the wall behind it does not soil so fast. In addition, the insects can then go in and out of the back door and thus get an additional protection against predators.

Cut about 20 cm wide strips of reed or bamboo rolls
Work with a fine saw to guarantee shatterproof tubes
Roll tubes tightly together
Then tie together tightly
For lacing take weatherproof materials
Ideal are worn belts and sturdy fabrics
Scrape entrances of the individual tubes well
Drill the marrow out of the bamboo tubes
Pin small wooden slat at the back
This creates sufficient distance from the wall
Firmly attach to avoid rocking movements
Stems, tendrils and marrowy tubes
Some wild bee species prefer to inhabit hollow stems, therefore, the tendrils, tubes and stems of various plants are well suited as a starting material for nesting aids. The nests are dug by the wild bees at will into the soft marrow. These are placed upright and can be installed in many areas in the garden, at the house and on the terrace. If the stems are mounted horizontally, then these are usually not populated.

Stems of blackberries, raspberries, reeds and summer lilac are ideal
Alternatively, tendrils of elderberry, mullein, motherwort and evening primrose possible
Just break off the ends to allow entry for the insects
Bundle tied to wooden sticks, drainpipes or garden fence
Set up in a sunny position in spring
Extruded
The Strangfalzziegel is the proven oldest roofing material, which is made of baked clay. These bricks are folded on the sides and have on the visible side round hollow chambers in the longitudinal direction. The punched edge is either arcuate, straight or round. The bricks provide a good protection against rain, because only the top is completely wet. - In this way, the entire roof can be made bee friendly and create meaningful habitat for the insects.

Stack stranded tiles to the small tower
Set up in a sheltered place
Ideal is under the canopy or in the open shed
Provides a useful nesting aid with many holes
Especially mason bees settle here
Video Board: DIY Bumble Bee Nest - All Or Nothing! :).