The Content Of The Article:
Wild Perennials - The term is not synonymous with messy flowerbeds and cluttered plants, but is meant to express that these are naturally occurring species that have not been genetically modified. Their big plus: They have been adapted to our nature and environmental conditions for many years and are usually easier to care for, more robust and more frugal than many of our garden plants.
It is not uncommon for wild shrubs to come to grips with difficult locations, such as barren soil or aridity, where larkspur or phlox breeding forms are difficult. Perennial wild perennials such as Eisenhut or Wald-Geißbart are considered suitable habitats as particularly long-lived, while shorter-lived native species such as columbine, wild mallow and foxglove are ideal fillers in the garden. They sow themselves and provide a welcome change.
Insects like wild shrubs
With the robust wild shrubs a diverse wildlife in the garden finds its way, because many insects such as moths and wild bees, including bumblebees, depend on very specific species. From a single native plant sometimes benefit over ten species of insects. And thanks to the insects, the birds also come to the thriving kingdom. While the plants provide plenty of nectar and pollen for bees and co., They provide fruit or seeds for the feathered guests later in the year.
For butterflies, wild shrubs such as the Dost (Origanum vulgare) are very popular
In nature, wild perennials have been displaced many times by non-native plants - conservationists now hope for a balance: from the gardens emigrating species could permanently colonize their natural sites again. Therefore, you should set in the garden on wild shrubs - exceeds the total area of ​​private gardens by far the area of ​​nature reserves in Germany, Austria and Switzerland. With appropriate plants in our own green kingdom, we can thus contribute much to the preservation of our native flora and fauna.
On slopes where rainwater drains off quickly, the soil is often much drier than in even garden areas. Accordingly, there is a mixture of drought-loving perennials and grasses
As for all garden plants, it is also for wild shrubs to choose the right place, so you can enjoy them for a long time. Sun, partial shade or shade, dry or damp as well as lean or nutrient-rich soil are among the most important criteria. Dry, sandy soil in the garden is often considered problematic. Fortunately, there are some wild shrubs that feel very comfortable there.
The sunny edge of larger groups of trees or the slopes of a hillside garden often lack sufficient moisture to set wild shrubs there. By applying compost and regular watering, the dryness can be mitigated - the more sensible way, however, is to simply adapt the planting to the site conditions.
Wild shrubs for dry locations
Luckily, there is a sufficiently large variety of drought-tolerant species to create varied areas. Especially among our native wild shrubs you will find many who offer themselves for a planting of dry and nutrient-poor soils. Since these are usually very robust, you get easy-care beds with natural charm, which are also a paradise for many useful insects. Many traditional medicinal plants can be found here, and so you can harvest flowers and leaves for the medicine cabinet especially in the summer weeks.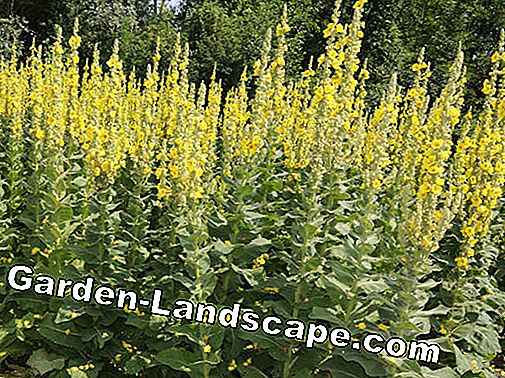 Start photo gallery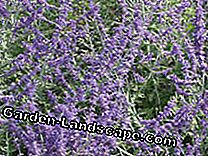 10
Show all
Wild shrubs for dry locations
A proud appearance is the large-flowered Mullein (Verbascum densiflorum). The biennial plant is 1.50 meters high and flowers from July to August. Then she sows plenty of it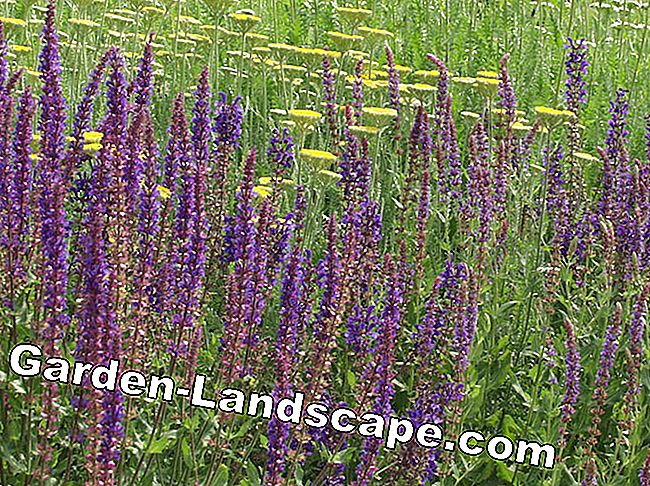 The steppe sage (Salvia nemorosa) sets its accents in the summer garden with its graceful, upright standing blue-violet flower candles. Even on dry sandy soils, the hunger artist flourishes untiringly from June
The blue lurking (Perovskia) flowers from July to October. In severe winters, she freezes back, but willingly again after a cutback in the spring
The Tansy (Tanacetum vulgare) forms a dense pile with its golden yellow flower buttons. The yellow perennial was formerly used as a dewormer. However, it is slightly toxic
In the wild, you will find the pretty dove-tailed squirrel (Silene vulgaris) on dry meadows or on roadsides. It can be easily sown in the garden. In Italy, its leaves are popular as wild vegetables
The Little Meadowsweet (Filipendula vulgaris), in contrast to her close relative, the real meadowsweet (F. ulmaria), loves dry locations. The native perennial flowers from June and is about 40 inches high
Seasoning herbs such as oregano (Origanum vulgare) feel well in sunny, dry beds. The pink flowers attract bees, its fresh leaves refine many summer tomato dishes
From June to August the small agrimony (Agrimonia eupatoria) flowers. He is up to 50 inches high and prefers nutrient-poor places. In folk medicine, it is due to its tannins and bitter substances in liver and gall bladder used
The Burning Bush (Dictamnus albus) often grew in the gardens in earlier times. Today, the long-lived perennial is rarely found. It is about a meter high and blooms from June
The red carnation (Silene dioica) copes well in damp and dry locations. The first buds of the perennial already open in April. The flowering period lasts until August. The plant is reliably sown



Among the wild shrubs that have been proven for dry locations, include white-flowering common yarrow, large-flowered mullein and St. John's wort in bright yellow, as well as pink musk-mallow and red carnation. Spices such as oregano and thyme are complementary. Almost forgotten garden plants such as the Burning Bush, also called Diptam, come to new honors. The shrub's name is due to its high content of inflammatory essential oils, which it exudes in strong sunlight. These can also irritate the skin. The perennial takes usually one or two years to flower the first time and should not be replanted if possible.
Wild perennial beds for replanting
Wild perennials for sunny locations
Plenty of sun and dry, nutrient-poor soil needs this combination of wild shrubs. Main flowering period: June to August
In the background stretches the (1) Dark mullein (Verbascum nigrum, height up to 120 centimeters) flowers up. She is accompanied by the white one (2) Meadow Yarrow (Achillea millefolium, height up to 50 cm). The violet blue (3) Blood Cranesbill (Geranium sanguineum, height to 40 centimeters) brings the yellow-green flowers of the (4) Felted woman's coat (Alchemilla glaucescens, height up to 20 cm) for blasting.
Wild shrubs for the penumbra
In the light shade under trees on slightly damp ground this plant ensemble feels well. Main flower: June to July
Of the (1) Blue monkshood (Aconitum napellus, height up to 120 centimeters, careful: highly poisonous) attracts attention with its flower candles. The (2) Akeleiblättrige Meadow Rue (Thalictrum aquilegifolium, height up to 120 centimeters) matches in color (3) Large star-throats (Astrantia major, height up to 60 centimeters). The front flowers (4) Large-flowered brown hellebore (Prunella grandiflora, height up to 20 centimeters).
Wild perennials for the shade
Where the sun barely gets on humus, slightly damp ground is the right place for this bed of wild shrubs
The (1) Wood-goat beard (Aruncus dioicus, height up to 200 centimeters) dominates the fragrant with white Blütenrispen (2) Perennial silver leaf (Lunaria rediviva, height to 120 centimeters), also called moon vial, which later shows transparent fruit pods. The (3) Many-flowered Solomon seals (Polygonatum multiflorum, height up to 60 centimeters) attract attention through its flower bells. The (4) Haselwurz (Asarum europaeum, height to 20 centimeters) provides for Blattschmuck.
Insects also love foreign wild shrubs
In wild-flowerbed beds, various species blend in very harmoniously, which are not originally native to us, but are very popular with bees, bumblebees and butterflies. These include the blue ball thistle, the yellow scented evening primrose and the purple steppe sage. Moreover, in climate-depleted regions, the blue lavender, which is botanically considered a subshrub, is an appealing midsummer bloomer. Such a bed requires little care. A cover of grit or fine gravel prevents the growth of unwanted herbs. As a rule, the plants are not cut back until late winter. Fertilizer should also be used sparingly.
Video Board: This Crazy Tree Grows 40 Kinds of Fruit | National Geographic.