The Content Of The Article:
So that you do not experience any bad surprises, you should plan a conservatory carefully and pay attention to some things during construction. At the beginning, in a rough sketch, determine what the layout of your winter garden should look like. Important: Do not forget the space requirements for the interior, because this results in the necessary minimum size. If the winter garden is to connect several rooms, then passage zones must also be taken into account.
Help with the planning
If you want to build a winter garden, you can get professional help from architects or special winter garden planners. However, it is cheaper if you leaf through winter garden catalogs and request a non-binding quotation directly from the supplier for the models of your choice based on the sketch. Manufacturer addresses and planning aids are available from, among others, the Winter Garden Trade Association. Compare not only the prices, but also the quality of the various models - it usually pays to spend a little more money.
Especially for large and individual projects, a specialist should be consulted for the planning and implementation
Planning permission for the conservatory
If there is a development plan for your residential area with appropriate stipulations, it is not necessary to have a complete building permit procedure, but only a construction notice to the municipality. In addition, there are simplified approval procedures in some federal states. In any case, renowned winter gardening companies will, upon request, prepare the necessary documents such as construction drawings, site plans, static calculations, information on fire protection and calculations in accordance with the German Energy Saving Ordinance. On request, they even take you from the incurred formalities. Depending on the procedure, you will have to wait four to twelve weeks before you get the building permit.
Residential or cold winter garden?
Depending on the design and equipment, a conservatory is a heated and thus year-round habitable room - the so-called "Wohnwintergarten". Or it is not or only slightly heated - the "cold winter garden". But even the latter can warm up on sunny days in winter so far that you can sit comfortably in it. Also intermediate forms are possible, which are more or less tempered. The cold winter garden is usually attached to the wall of the house and converted the terrace for it. The construction is rather simple and thus cheap. When it comes to the residential winter garden, it depends on whether walls have to be removed for the extension to the living space. The technology is more complex, even at the higher running costs for the heating you should think.
The outdoor season is also extended with a simple, uninsulated conservatory: as soon as the sun is shining, it warms up quickly. If you open the arched sliding elements, you sit almost in the open air. In winter, potted plants find shelter here
Various types of conservatories
A lean-in conservatory is inexpensive and therefore widely used. It is a simple pent roof construction that is attached to the building. Some manufacturers are integrating a so-called "solar nod" in the lean-to conservatory - this means that the front half of the roof is more inclined than the rear, in order to increase the amount of light in low sun. It takes some creative skill to connect a lean-in conservatory architecturally appealing with the existing residential building. The aim was to continue building as many building lines as possible and also to orientate oneself in the choice of building material and paint on the residential building.
Although a leaning winter garden may be the simplest variant of a conservatory, the feel-good factor does not detract from this
A polygon conservatory is a slightly more elaborate design. The six- or polygonal floor plan is reminiscent of a pavilion. Especially for houses with similarly designed roofs, this variant of the Anlehn conservatory is aesthetically pleasing. However, the use of space is not optimal because of the non-rectangular basic shape. In addition, it should be taken into account already during construction that the installation of a shading, depending on the number of corners is associated with greater effort. Incidence of light and heat storage are cheaper for a polygon than for a quadrangle. The light is reflected less strongly, as it always meets at a relatively obtuse angle to one of the side surfaces. In addition, the ratio of the air volume to the outer surface becomes more favorable the closer the plan of the circular shape approaches. Therefore, the polygon conservatory does not cool down so quickly in the cold season.
For those who like something playful, the exciting shape of the polygon conservatory is just right for them
An over-corner conservatory is the most expensive construction.The roof construction is complex and you have to obstruct more glass for the same floor space. In addition, the static requirements are higher because the house wall is integrated only to a small extent in the support structure. But the advantages are obvious: You have a panoramic view of 270 degrees in the garden and can, depending on the orientation of the conservatory from morning to evening to use the full sun. Many winter garden manufacturers who used to specialize in greenhouse construction have such largely freestanding models in their program.
Here is a spectacular and spread over several floors variant of the over-corner conservatory
Which material is right for your conservatory?
Wood is the most important building material for the conservatory. The manufacturers use only glued laminated timber. It is not grown in one piece, but glued together from thin boards. Advantage: The profiles do not twist and warp and withstand higher loads. In addition, wood insulates the heat better than any other material. However, the natural building material also has disadvantages: most types of wood are not very weather-resistant and need a new protective coating, especially outdoors. Even for plant-rich conservatories with high humidity, wood is only partially suitable. Although wood provides a very homely atmosphere, to achieve the same stability as with steel or aluminum constructions, a much more solid construction is required, even when using hard tropical timber.
Light wood such as beech, as a renewable raw material, is a good choice for the body of your conservatory
aluminum allows filigree conservatories with large glass surfaces, as the metal is light and stable. Because it does not rust, a protective coating is unnecessary. Inner and outer profiles should only be connected via an insulating plastic insert, otherwise heat loss will occur due to the high conductivity. Anyone opting for an aluminum winter garden will find mature solutions on the market. Most manufacturers offer prefabricated components that are easy and quick to process. Composite construction methods made of wood and aluminum have proven particularly successful: the load-bearing timber construction is covered on the outside with ventilated aluminum panels. There are also aluminum disc holders which are screwed onto internal wooden supports.
Tip: The load-bearing construction of metal conservatories must bear the CE mark and be certified to DIN EN 1090.
For those who love modern, aluminum is a good choice of material
Plastic profiles have a steel core, which is usually coated with PVC as corrosion protection. The biggest advantage of this variant is the favorable price: steel is cheaper and easier to process than aluminum. But this also comes at a few disadvantages, because the profiles have a relatively high weight and are not ideal for larger cantilevered areas. They also have to be insulated like aluminum with special plastic inserts. Another disadvantage is that the plastic surface often loses its shine over the years and becomes gray. Meanwhile, there are some system providers who have helped the plastic conservatory by special welding techniques and system designs to a renaissance and thus can realize larger construction projects.
Plastic profiles are cheaper, but they also have a higher weight and the plastic coating fades over the years in the sun and becomes porous
Flooring: wood, tiles or pavement
Flooring is not just about aesthetics. Also durability and resilience should be considered.
wood floors They are a good choice because they look homely, are warm to the feet and do not heat up as quickly as stone floors. But this also means that the incoming solar heat is not stored so well, which is a disadvantage in winter. Even with a good surface seal, wooden floors must not be damp for a long time (casting and condensation water!), Which is why they are only conditionally recommendable for plant-rich conservatories. Because of their high insulation effect, wood floors are also not suitable for underfloor heating. Be sure to use hardwood parquet made of beech or oak, because it has a relatively pressure-resistant and durable surface. Normal planks of spruce or fir are softer and more sensitive. The substructure requires a steel-reinforced and insulated concrete floor.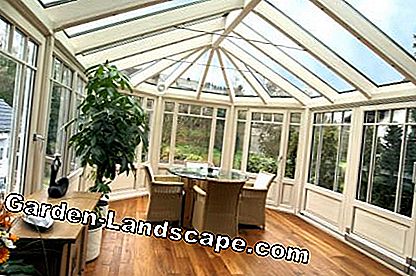 A wooden floor is visually as well as physically a warm material and makes the conservatory very comfortable
tile floors Although relatively expensive to manufacture, they are the best solution in most cases. Depending on the material, they are insensitive and easy to clean. Tiles warm up quickly when exposed to sunlight, but they also quickly release the heat when the underlying concrete floor is not well insulated from the ground. In order not to get cold feet in winter, you should install a floor heating system.A psychological heat effect can be achieved by choosing the right material: For example, terracotta tiles are perceived as warmer at the same temperature than white earthenware tiles. Even natural stone slabs have comparable properties, but depending on the material they need a sealed surface, so that impurities and stains can not penetrate into the stone.
Noble, insensitive and easy to care for, the most important advantages of tiled flooring can be summarized
Paved floors are cheap and easy to install. However, they are only recommended for unheated conservatories, because the substructure consists of a compacted gravel base layer instead of an insulated concrete pavement. The heating of such a winter garden would be associated with high heat losses. The great advantage of a cold conservatory with paved floor is that you can change the arrangement and size of the beds for your plants afterwards without major construction effort.
Glazing: Genuine glass or plastic
The glazing causes the so-called greenhouse effect: The penetrating sunlight is released from the floor and the walls partly as heat radiation again. This heat radiation can not penetrate the glass and the interior heats up.
For safety reasons, the roof surfaces of the winter garden must be covered with break-proof acrylic glass
The Energy Saving Ordinance (ENEV) prescribes glazed side walls with a U-value (heat loss index) of at most 1.5 for heated conservatories with less than 50 square meters of floor space. Rooftops must not exceed a U-value of 2.0. The support structure usually does not reach these values, but together with a modern standard double glazing (U value 1.1), the limit values ​​can be easily met. Triple slices even achieve a U value of 0.6. But: Such a glazing reflects 50 percent of the incident sunlight. The energy-saving effect on dull winter days is quickly gone because the sun does not heat the winter garden so much on sunny spring and autumn days.
In the all-season usable winter garden a functioning control of the climate is incessant, which can also be done automatically. In the summer, this includes a shading, outdoor awnings protect the best from heat
Consider also safety aspects when glazing your winter garden: Safety glass is mandatory in the roof area, because falling glass fragments cause a considerable risk of injury. Laminated safety glass contains a foil that prevents the windows from breaking apart. It is in contrast to the wired glass with embedded metal mesh completely transparent, but also more expensive.
With glass folding walls you can open the entire front to the garden, they provide a threshold-free transition to the outdoors. After the accordion principle, the discs are folded and pushed to the side
Acrylic glass is sometimes offered as an alternative to safety glass, better known under the brand name Plexiglas. It is not a true glass, but a transparent plastic compound called polymethyl methacrylate (PMMA). It is more translucent than real glass and only about half as heavy. Acrylic glass is tough and shatterproof as well as weather and UV resistant. So-called multiwall sheets made of acrylic glass consist of two panes, which are connected to each other by narrow plastic webs. This construction increases the stability and thermal insulation without significantly affecting the transparency. A disadvantage of acrylic glass, however, is that it is not scratch resistant. Dust deposits usually cause the first scratches at the latest when cleaning. Therefore, despite the many favorable properties, you should prefer real glass to acrylic glass.
The winter garden manufacturers are increasingly offering self-cleaning glass: It is provided with a weather-resistant special coating on which no dirt particles can settle. Organic particles are decomposed on the surface under the influence of UV light and do not form a firm connection with the glass. In heavy rainfall, the contaminants are then washed away largely residue-free.
The expert warns: Beware of very cheap offers
Dr. Steffen Spenke from Berlin is an expert and chairman of the Bundesverband Wintergarten
How do you do when building a conservatory?
First of all, everyone has to decide the most important question: How is the conservatory used? Should it be a special room with lots of light and proximity to nature, primarily an additional living and working room or a place for hibernating potted plants? This results in answers regarding location and size. For technical and construction law issues, a competent local specialist should be on hand.
What costs do you have to expect?
The price depends on many factors, including size, design and features. For a rough orientation, one can say that a solid residential conservatory, including the foundation, building application, etc., will hardly be available under € 2,500 / m². Get some offers on site.Reference objects and a meaningful exhibition convey an impression of the providers. Beware of particularly low prices: Critical demands are appropriate, for example from suppliers from areas that hardly know snow.
What should not be saved?
Important are sufficient ventilation options, the right glazing and a fast-reacting, sufficiently sized heating. Subsequently, all this can only be corrected consuming. When shading, however, you can also later retrofit well.
Video Board: The Sims 4 - How to Build (Cheats, Tricks & Tips).