The Content Of The Article:
Many know woodruff only as a jello or lemonade. You can prepare many other delicacies from the herb. How about a delicious woodruff liqueur? There are two recipe ideas here.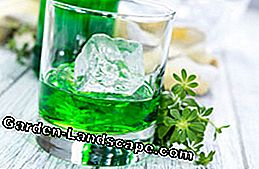 Waldmeister is often used in bowls or as a syrup to enjoy refreshing drinks in the summer for barbecues or cozy evenings outdoors. Many do not know that it is possible to make liqueurs from the green leaves with the unmistakable taste.

Waldmeister Liqueur is a nice gift idea and made quick and easy. There are both recipes with cream as well as for clear liqueurs, so that you can conjure a nice woodruff liqueur for every taste.
➲ recipe for a clear liqueur
➥ Ingredients:
500 ml of vodka
10 stems of fresh woodruff
Lime peel, organic
Orange peel, organic
1 vanilla pod
400 ml of water
125 g of sugar
➥ preparation
1 Summarize the Woodruff in a bunch and hang it downside down for several hours until it withers. Only in this way does it develop its aroma and the typical scent.
2 Place the withered leaves in a larger glass container (for example a large mason jar) or an empty larger glass bottle and add the sliced ​​vanilla pod. Add one cup of lime and one orange to the glass and add to the vodka. Then close the bottle or glass, shake vigorously once and then let it strain for about a week in a dark place. 2-3 times a week you should shake the bottle again.
3 After this time, apply a sugar syrup. To do this, boil the water with the sugar and let this mixture boil for about 10 minutes until the sugar has dissolved and the liquid has a syrupy consistency. Add a teaspoon of citric acid and let the mixture cool.
4 The vodka mixture is then poured through a fine sieve into a bowl. Then mix the vodka solution with the sugar syrup and fill the liqueur with hot rinsed, clean bottles. Close immediately and refrigerate again for 2 weeks. After that, the woodruff liqueur is ready and can be tasted.
➲ woodruff liqueur with cream
➥ Ingredients:
300 ml of milk
150 ml of cream
50 g of sugar
150 ml of vodka
Mark a vanilla pod
1 packet of custard powder without cooking
250 ml woodruff syrup
➥ preparation
Mix all ingredients in a bowl and mix well with the blender. Then pour the liqueur in clean, hot rinsed bottles and leave in the fridge for about 2 days. After that he is ready to drink.
In the refrigerator, the liqueur lasts about 3 - 4 weeks.
Video Board: Americans Try German Food For The First Time.