The Content Of The Article:
Vorstellbalkon - prices and costs
An alternative to the Anbaubalkon can be the so-called Vorstellbalkon for all those who want to install a balcony at the house afterwards.
Annex balcony - prices and costs
Build ladybug house yourself
To create a garden close to nature, you do not need much. Native trees, a flowering perennial border and a colorful flower meadow attract many beneficial insects such as the ladybird magically.
Build wooden bathing barrel yourself - construction manual for a bathing barrel
The bathing barrel is also known under the name Schwedenfaß and is a large Zuber, which is filled with water, can be heated under certain circumstances and thus represents its own wellness oasis in the garden.
Build your own fire in Sweden - construction manual for tree flares
Swedish fires or tree torches, as these are also called, are a great eye-catcher in the garden and for many traditions in summer and autumn. With the following instructions, they can even be easily produced by yourself, resulting in wonderful gifts or a great use of felled trees.
Creating a moat in front of a basement window - ideas for designing
Building a light ditch in front of a basement window is not that difficult. If you follow a few basic rules and do not shy away from physical work, you can do it. What is important and what great design options are available here.
Drilling wells - a guide to well drilling
In general, garden owners who want to water their plants, use the water supply through the city or municipality (drinking water). Because of the rising water costs, the question is whether to create your own water source. If the groundwater in the area is relatively close to the surface, a well can be created by simple means.

Instructions: Make your own sundial - how it works!
Sundials were the most important timepieces before the invention of mechanical watches. Already Egyptians and Romans resorted to the time measurement of the sun's position in the sky, to divide the day into reliable, smaller time units. So what would be nicer to set up a sundial in the garden - not just as a decorative object, but a truly functional sundial?

DIY instructions: Build a planter with trellis yourself
As a decorative privacy on the balcony, for greening a facade or for the visual relaxation of the garden; Trellises are an indispensable part of creative garden design. How good, when combined with a plant container. This DIY guide explains how to build a planter with trellis yourself.

Build an isolated doghouse yourself - instructions in 7 steps
A cuddly retreat for dry paws and enough space to stretch out - that's what every dog ​​that guards the property and the house dreams of. With a little manual skill, build your four-legged darling a comfortable little villa. How to build an isolated doghouse yourself is shown in 7 steps.

Build quarry stone itself and grouting properly
Dry stone walls fulfill a variety of tasks in the garden. They support terraces and slopes, enclose beds or loosen up the visual appearance. A wall made of natural stone is also more durable than a construction made of brick or concrete. This manual explains in practice how to build a break stone wall yourself and grout properly.

Build squirrels house yourself and hang it up properly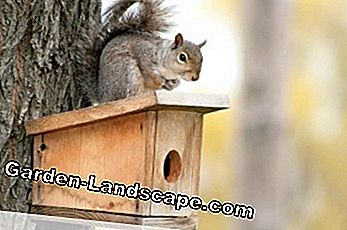 The squirrel usually builds its nests (kobel) high up in the treetops. Here it gives birth to its young and spends the hibernation. The cute fur ball likes to settle in gardens with a ready-to-go Kobel. How to build a squirrel house yourself and how to hang it up correctly can be found out here.

Instructions: Make and hang the bat box
More and more bats are getting into their nest because they can no longer find any trees with suitable caves. The old tree population is increasingly being cut down, among which the tree-dwelling-inhabiting species suffer. If you want to provide homeless bats with a home, here is a comprehensive construction manual for a bat box with tips for hanging properly.

1234… 678910›"

subcategories
Balcony - care, building, flowers, maintenance
Balcony furniture and balcony accessories
Building instructions & construction plans
Carport - garage, prefabricated garage
Gardening of all kinds
Garden house - garden sheds in the garden
Garden path - paths in the garden
Building garden paths - Guide
Garden fence, fence & fences
Greenhouse - greenhouses for the garden
Fencing
Hedge - planting, blending and grooming
Hedges - planting, cutting, care
Wooden terrace - instructions, care, terrace wood
Pergola - Building, information and more
Build a terrace from wood and stone
Terrace and balcony
Deck Wood - Douglas Fir, Bangkirai, Robinie & Co
Terrace Covering - Materials and Costs
Tips for terrace design
Other gardening for landscaping
Conservatory - costs, building instructions, equipment
Fence - fence construction, building fences
Video Board: Winter Work In The Garden - Wartime Gardening 1943 WWII.