The Content Of The Article:
origin
The zucchini (Cucurbita pepo var. Giromontiina) belongs to the family of cucurbits (Cucurbitaceae) and is native to Southern Europe. Translated, the zucchini is called "small pumpkin", which points to the close relationship with the right pumpkin (Italian: "zuccho"). Where: Small zucchini varieties do not stay small. As they grow rapidly, garden owners must hurry to comply with the harvest and recovery. The largest selection of varieties can be found in Italy and France, but even from our gardens, the tirelessly fruity summer squash is hard to imagine.
Appearance and growth
The fruit vegetable is one-year-old. From a strong main shoot densely crowded petioles and flower shoots grow into a spreading bushy plant. On the long hollow and hairy stems sit large, usually heart-shaped lobed leaves. The large yellow flowers open to star-shaped shells. Zucchini are monoecious, which means that both male and female flowers appear on a plant. The male flowers are sitting on a thin, long stem. Female flowers have only short stems and are associated with many varieties for some time firmly with the ripening fruits.
The cucumber-like watery fruits are green, yellow or white striped and weigh up to five kilograms. There are also round zucchini, called "Rondini". Golden-yellow, elongated zucchini usually have the tenderest flesh.
Start photo gallery
4
Show all
Growth forms of zucchini
Round zucchini, so-called Rondini, should be harvested, as long as the seeds inside are tiny and snow-white. Later, the shell becomes hard and inedible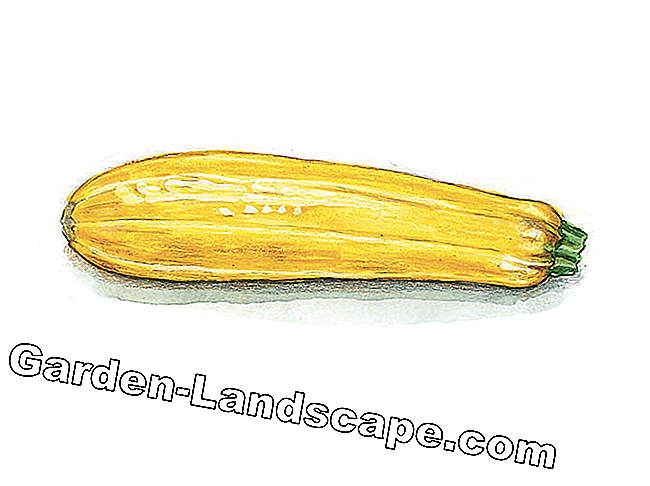 Golden yellow, elongated zucchini enrich the diet not only in color, the meat is mild and melts almost on the tongue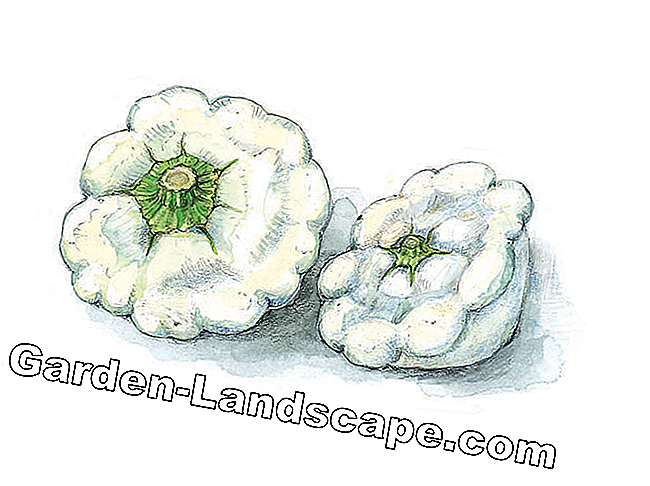 Fat fruits are reminiscent of the fruits of the Patisson courgettes, which are also available in yellow
Among the Italian classics are green striped varieties such as 'Tripoli Cococelle'. Light green varieties, such as 'Alberello di Sarzana', are usually characterized by an early maturity and their delicate, thin shell

Location and ground
Zucchini prefer a sunny to partially shaded spot and need a nutrient-rich, loose and humus-rich soil. Frost-sensitive layers should be avoided as the fruit vegetables are very heat-loving.
Crop rotation and mixed culture
Good forays for courgettes are broad beans, as are radishes and salad. Between zucchini and other pumpkins should be a minimum of four years of cultivation.
sowing
Zucchini plants can be well pre-cultivated. For this purpose, one seed is placed in each April in a four to eight centimeters large pot with potting soil. At 20 degrees Celsius, the seeds germinate within a week.
planting
The young zucchini can be planted in the bed from mid-May, with a distance of 80 x 80 or 100 x 100 centimeters. The large planting distance is relative in that you need only a few plants to cover the zucchini needs of a family of four. From the end of May to the beginning of June you can also sow directly in the field. If the space is not enough, you simply transplant part of the culture into tubs. Large pots are suitable for the culture of zucchini on the terrace or the balcony. You should always set at least two plants so that they can fertilize each other.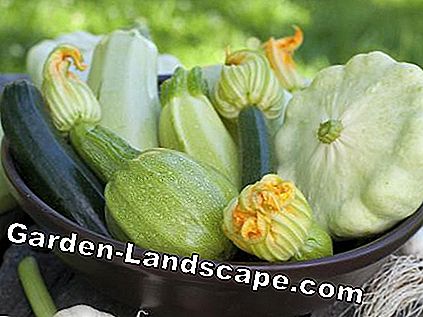 Zucchini are part of the summer kitchen like tomatoes and melons
maintenance
Zucchini are strong eaters and therefore need a good supply of nutrients. When preparing the bed, you should level three to five liters of mature compost per square meter flat in the topsoil. A weekly dose of nettle gout in irrigation water (mixing ratio 1:10) strengthens the leaves and ensures nutrient replenishment - especially in the growth phase. In addition, it is important to water the cucurbits regularly - preferably in the morning - since a lack of water can lead to the deformation of the fruit and to a bitter taste. Until the plants shade the ground, you should loosen the soil regularly. A mulch layer of grass clippings has also proved its worth.
fertilization
Poor fertilization is one of the most common problems with zucchini cultivation. In the beginning, mostly male flowers outweigh, only when the plants have formed enough leaves for the nutrition of the fruits and the temperatures rise, appear more female. The plants throw off the female flowers after a short time. Young fruits suddenly narrow at the top, yellowing and falling off as well.At higher temperatures the male bee pollen loses its ability to fertilize. On humid or rainy days, the pollen sticks because of the high humidity. The plants start female flowers, but throw them off after a short time. Then it helps to cut one to three male flowers, to remove the petals and to dab the scar in the middle of the female flowers with a pollen brush.
A look into the goblets shows the male stamens (right) and the thick, female scar (left), which have grown into a narrow pollen brush.
Harvest and recovery
Six to eight weeks after planting, up to five fruits a week are ripe. You should harvest them with the kitchen knife once they are 10 to 15 inches long. Larger and longer fruits are often spongy and watery inside. For Rondini and Patisson this corresponds to a diameter of five to six centimeters. Rondini taste best when they are about a mandarin size. To avoid oversizing, you should inspect the plants every two to three days. Cut the fruits with a knife about one centimeter from the stalk. In Italy, special varieties such as 'Zucchino da Fiori' are cultivated, mainly using male flowers. They are cut into thin strips in a salad, fried in olive oil or stewed with a delicious filling in the oven.
Zucchini are only conditionally storable - maximum one week in the refrigerator. Sliced, they taste particularly good in lettuce or stewed in olive oil. But also filled or baked, they are a widely usable vegetables. Tip: The flowers can be well baked in oil or fried and served as a side dish for grilling.
Zucchini are harvested with the kitchen knife, with which one should cut off the fruits one centimeter behind the Stielansatz (left). Smart BBQ Side Dish: Deep Fried Zucchini Blossoms (right)
sorts
F1 hybrids with bushy growth and high yield are 'Ambassador', 'Blackjack' and 'Diamond'. 'Zuboda' is a biodynamic, semen-firm breeding.
'Tondo Chiaro di Nice' develops many round, light green fruits that are harvested tennis ball size. The plants grow bushy and start to grow in midsummer. For growing in pots bushy growing zucchini are especially suitable as the yellow 'Gold Rush'. The striking spotted, heavily lobed leaves are typical of these and many other zucchini varieties. Another compact strain is 'Marrow Bush Baby'. Among the Italian classics are green striped varieties such as 'Tripoli Cococelle'. Light green varieties, such as 'Alberello di Sarzana', are usually characterized by an early maturity and their delicate, thin shell.
There is even a climbing zucchini called 'Black Forest', with long shoots it conquers trellises up to two meters in height. Water demand is highest during the main growth phase in July and August. Here it is important to carefully cultivate the zucchini, because the plants thirst, the fruits can be bitter. Tip: Stinging nettle once a week added to the irrigation water strengthens the leaves and ensures nutrient replenishment.
Zucchini 'Summer Ball'
Old, seed-proof zucchini can be grown from self-collected seeds. But beware: zucchini easily cross with pumpkins and also with ornamental gourds. In exceptional cases, it can happen that the fruits of the offspring taste bitter. You must not eat such fruits - they contain the poisonous cucurbitacin, which was bred away from the cultivar varieties.
proliferation
If you let selected fruits mature to seed, they develop an impressive size. Whether the seeds are mature inside, a test shows: If the fruit bowl with the thumbnail no longer scratch, it is time. The seeds remain viable for four to five years in cool, dry storage. If you would like to win your own seed, for example from particularly high-yielding or traditional varieties, you should cultivate only one seed-proof breed each year. Like all cucurbits, zucchini willingly intersect and then lose their typical varietal characteristics. Avoid adding squash and ornamental gourds if you want to harvest seeds from your zucchini. When they cross with pumpkins, they often produce zucchini that are bitter and inedible. In addition, the bitter substance is highly toxic and has even occasionally led to deaths.
Forgotten or multicolored zucchini reach stately sizes
Diseases and pests
Powdery mildew occurs in hot and dry locations. He often attacks older or heavily shaded leaves. As a preventative measure you can use organic remedies such as Horsetail. Ecofriendly net-sulfur preparations also have a preventative effect.Viral diseases such as the cucumber mosaic virus, the courgettes yellow mosaic virus or the watermelon mosaic virus show up on sharply demarcated, vesicularly arched leaf parts. The virus is usually transmitted by aphids. Protect your zucchini best with close-knit vegetable nets before infestation.
Video Board: How To Prepare Zucchini.